February brings snow and shoveling and the countdown to Spring, but it also inspires thoughts of LOVE. Valentine's Day is here and we're in love with all that's happening in the building. Staff has offered up their favorite titles for patrons to enjoy, library visitors can check out a title from the Blind Date with a Book display to spice up their reading life, and romantic movies are flying off the shelves!
If you're looking for love and relationship advice, visit the third floor where you'll find a selection of non-fiction titles with tips from the pros. When you're visiting the children's room, keep an eye out for the Valentine decorations made on a snowy Monday by a staff member's daughter during her snow day.
When you can't make it into the building, you can view our suggestions and collections online. We've created Pinterest boards for most of our displays, and the Valentine board links include book lists, print and mail Valentine cards, heart crafts and more!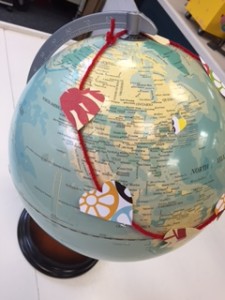 Did you know that February is Love Your Library month? Several organizations, including the American Library Association, dedicated to library advocacy use this time of year to herald the lesser known services of public libraries, like online courses, video game collections, interlibrary loan and SO MUCH MORE!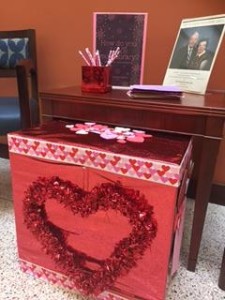 Do you love what you find at the APL? Let us know by dropping us a line in the shiny red box in the lobby.
We hope we can help you discover more of what YOU love when you visit the library. Stop by a desk, send us an email, or give us a call. You can browse through our Pinterest boards.  Whether you're a romantic at heart or the more practical sort, we're here to help you find just what you're looking for!