Welcome to the Attleboro Public Library's Teen Book Review Page! Looking for something new to read? Below are reviews written by our amazing tween/teen volunteers and patrons! Have something that you would like to add? Email your review to mwitherell@sailsinc.org! We can't post every one, but we will get as many up as possible!
The Blood of Olympus by, Rick Riordan
This is the last book in the series! If you would like to read it you should start with the first book, The Lost Hero.  It's a great series!
-Charlotte, age 14
The School for Good and Evil by, Soman Chainani
This book is a wild read!  Funny, exciting and dramatic….I loved it!!
-Riley, age 14
Fairy Realm: The Charm Bracelet   By, Emily Rodda
Jessica is very upset when she finds out that her grandmother must move to their city home.  She is shocked when she discovers that her grandmother is a queen! I liked this book because it had both magic and adventure in it!
-Sophia, 5th grade
  The House of the Scorpion    By, Nancy Farmer
This was an interesting book about an exciting topic.  I like the science behind the book and the characters personalities.  However, I felt the book dragged out certain parts and could have ended earlier, but the end of the book had a satisfying twist!
-Ed, 8th grade
The Moffats   By, Eleanor Estes
I would rate this book as GOOD, I liked it, and am glad I choose to read it.  It was an episodic type book. There were a lot of characters.  I really liked the chapter where one of the characters went on a train ride and back during school, the teacher didn't notice and neither did anyone in the class! The part of the book I disliked was that every chapter was a different day and time.
-Ayla, 5th Grade
Wild Magic  By, Tamora Pierce
This book was good.  It is about a young girl, named Daine, who goes through a traumatic experience and finds a new home with the royal horse mistress of a foreign land.  Along the way she discovers her magic…
Numair, her teacher is the most interesting character in the book.  He is down to earth and funny.  Another great character is Onua, her boss, who is tough but easygoing, kind and supportive.
My favorite things about this book is that the characters were interesting and dynamic and that the plot was intriguing.  Although this is a spin off series of a series written earlier by the author, we felt that more information could have been given about the setting and characters.
Favorite Quotes from book:
"An idea made her jaw drop: if she's a legend, and a hero, then anyone could be a hero."
"She wanted to talk to dolphins so she stopped her own blessed heart."
-Teen Book Club  ages 13-17
 Little House in the Big Woods  by, Laura Ingalls Wilder
LOVED IT!! This is my new favorite book! This book tells a lot about what people did way back when, it was AWESOME! In the story, there is a little girl named Laura who is still learning about the world, she is jealous of her big sister.  I would recommend this book!!
Ayla, age 10
 The Bitter Kingdom  by, Rae Carson
LOVED IT! This is my new favorite book! This book was an exciting page turner.  It was one of the best YA fantasy books I've ever read.  The character I found most interesting was Hector, I loved how loyal and devoted he was, he always put others first.  Things I really liked about this book: the characters and their different traits AND the ending!
-Cassandra, age 15
 The War Within these Walls   by, Aline Sax
The War Within These Walls is a relatively short book, which simply yet comprehensively explains the Holocaust from the perspective of a teen living in the Jewish Ghetto in Warsaw, Poland. The book's main character is fictional, although the events are based on real history. It portrays what it was like to live with lack of food, disease, and the threat of execution, and the courage to defy this evil and fight for their lives. The easily readable writing style of the text coupled with numerous illustrations is certainly an advantage for any student trying to understand the history behind the resistance forces. Overall, I would rate this book a 4/5, a good personal perspective of a sobering event in world history.
-Sam, 12th grade
  Twisted  by, Laurie Halse Anderson
Twisted, by Laurie Halse Anderson, is a story of an unpopular boy named Tyler and his high school exploits, involving many of the cliché teen encounters with an abusive father, a flaky girlfriend, and obnoxious classmates, all while handling probation for a school prank. Throughout the book, Tyler is mistreated, and it is his learning to deal with this that shapes the book. Overall, while it was not one of my favorites, it was an entertaining read, and would appeal to those who enjoy the drama of teen life books.
-Sam, 12th grade

Atlantis Rising   by, T. A. Barron
Atlantis Rising by T. A. Barron, is an excellent fantasy tale in the vein of Lord of the Rings or Eragon. It tells of Promi, a poor boy living in the land of Ellegandia, and his friend Atlanta, as they discover that they have become pawns in a large scale war. Their partnership, they find, has the potential to lead to the creation of the island of Atlantis, a peaceful land where magic governs. As a fantasy lover, I would regard this book to be among the best.
-Sam, 12th grade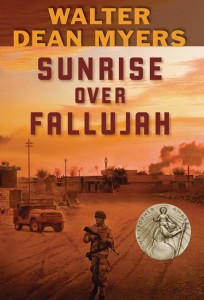 Sunrise Over Fallujah by, Walter Dean Myers
Sunrise over Fallujah by Walter Dean Myers is the account of a United States unit in the early days of the Iraq War. Similar to Myers earlier work, Fallen Angels, Sunrise over Fallujah gives an entertaining and realistic look at war and at the thoughts and experiences of individual solders. The somewhat satirical conversation between soldiers over what exactly their mission in Iraq is offers a shade of political commentary, making the book controversial in some circles, though the book is a great read and insight into the lives of soldiers.
-Sam, 12th grade
                     The Lightning Thief, Rick Riordan
Interested in Greek mythology? Couldn't put down Harry Potter? You'll love The Lightning Thief! The protagonist of the Lightning Thief, Percy Jackson, is the son of a human and a Greek God (you'll have to read the book to find out which one…) and children like him are called half­bloods, and live in Camp Half­Blood, a magical haven for teenagers not unlike Hogwarts. Percy arrives at the camp, and finds a home ­­ but then trouble brews, and he must leave the safe haven of the camp to grapple with the powerful magical forces outside. Percy and his two friends engage in various adventures in order to retrieve magical pearls from across the country (sound familiar?). Along the way, we meet vengeful gods, tricksy goddesses, and all kinds of magical creatures that mythology enthusiasts will enjoy. The novel is of middling length, and is a quick and action­filled read. I particularly enjoyed the wit and personality Riordan gives to characters as timeless as the Greek gods, and how the book integrates the ancient with the modern. This book (and the rest of the series) is similar to Harry Potter ­­ readers of one will certainly enjoy the other ­­ but takes place in America, and feels a little more relatable. Fantasy and mythology enthusiasts will love this book! Rating: 4/5
The Outsiders by S.E. Hinton
Before there was High School Musical, there was The Outsiders, S. E. Hinton's classic about family, social cliques, and good ol' teenage angst. Hinton's protagonist Ponyboy lives on the rough ­and ­tumble East Side, and is a member of the greasers, a gang from the "dangerous" side of town which functions as a community for Ponyboy and his family. The greasers' rival gang is the Socs (pronounced SO­shes), a wealthier and more elitist group from the privileged West Side. When Ponyboy attempts to befriend a girl, Cherry, whose boyfriend is a Soc, the two groups clash and tensions between them escalate, leading to a hideout, an unintentional murder, a heroic act, and one of the most famous fights (or rumbles… you'll get it when you read the book) in American literature. It's an action ­packed book with a lot of slang and even more personality, and it really gives you a sense of what life was like for young men like Ponyboy and his friends. This book is a little older than today's popular young adult novels, but it deals with a lot of the same themes as books you might be more familiar with. For example: if you liked the Gryffindor­/Slytherin rivalry in Harry Potter, you'll enjoy the conflict between the greasers and the socs. Although you might not identify with the exact experiences Ponyboy relates, there are a lot of other aspects of the novel that are common to the lives of teenagers, such as family conflict, not belonging with one's group of friends, and class tensions. I think this is an old gem that will appeal to many YA readers, especially those who like action and team stories. Rating: 4/5