Have you tried the Commonwealth Catalog? Commonwealth Catalog is your go-to source for items not found in the SAILS network.   Search for an item in the Commonwealth Catalog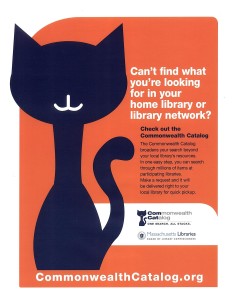 , place a request, and the title will be delivered to your local library for pick up. Easy!  The Commonwealth Catalog has access to many participating libraries across the state – public libraries, university libraries and special libraries offering unique collections.
Certain exceptions do apply – if the item is in the SAILS network, you must wait for the SAILS item to be available. Also, newly published items are usually not lent via the Commonwealth Catalog or Interlibrary Loan until at least 6 months past the publishing date. Most formats are available for request – Print, Audio CD, DVD, and Music CD. E-Books are currently available via sails.lib.overdrive.com or mass.gov/libraries.
Need a title not available in SAILS or the Commonwealth Catalog? Fill out our Interlibrary Loan request and our Reference Staff will be happy to request the item for you – we routinely request items from across the continental United States – for free! Questions? Contact the Reference Department at apl_ref@sailsinc.org.