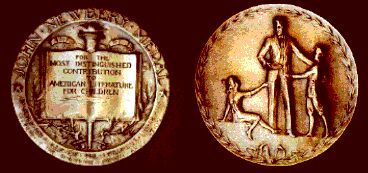 Newbery Award– Given annually to recognize the best children's chapter book
Caldecott Award – Given annually to recognize the best children's picture book
Geisel Award – Given annually to recognize an outstanding book for beginning readers
Coretta Scott King Award – Given annually to recognize an outstanding African-American author or illustrator
Massachusetts Children's Book Award– Presented by Salem State University, chosen by fourth, fifth, and sixth grade students
Massachusetts Book Award – Given annually to recognize an outstanding books that take place in Massachusetts or are written by Massachusetts authors
National Book Award—Given annually to celebrate the best of American literature, to expand its audience, and to enhance the cultural value of great writing in America.
Pura Belre Medal–Given annually to a Latino/Latina writer and illustrator whose work best portrays, affirms, and celebrates the Latino cultural experience in an outstanding work of literature for children and youth.
Scott O'Dell Award–Given annually to an author for historical fiction published in the previous year for children or young adults.
American Library Association Notable Children's Book Lists–Each year the Association for Library Service to Children (ALSC) identifies the best of the best in children's books