The Attleboro Library Youth Services Department has books, movies, materials and programs for babies to 8th grade and the adults who work with them and care for them.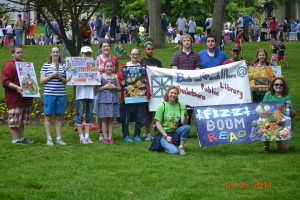 We offer weekly programs for babies, toddlers and preschoolers.  During school vacation weeks and the summer months we offer programs for children of all ages.  Our programs include story times, crafts, family nights, and many wonderful performances. All our programs are free.
You can find out  upcoming events by reading our Book Bites newsletter or checking the library's online calendar.
The Children's Librarian will be glad to provide lists of recommended books, by grade level and subject, and our staff is always happy to help you find just the right book.
Contact the Children's Desk  by calling 508-222-7820.
Our support and services to schools include visits to preschools to read stories, tours of the children's room for school groups.  Each year, we visit all the second grades in the Attleboro Public Schools. We have also visited other grades, informing students about our collections and services. We would be happy to come to any classroom for an age-appropriate presentation. We are always interested in working with teachers to ensure that we have enough material to support research and reading assignments.
Please be respectful of your library and your community and observe the following rules of good library behavior:
No running and noisy play

Library staff members are not responsible for the care of unsupervised children.

Children aged seven and under may not be left unattended. Lost or unattended children aged seven and under will be returned to their parents or caregivers.

Shoes must be worn in the library for the safety of library patrons and staff.