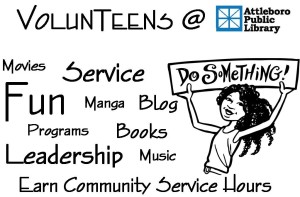 Volunteering @ the APL is a great way to get involved with your community by making a difference and preparing for high school, college, the job market and beyond! Take a look at the positions below and see what looks good- or, if you have other suggestions as to how you can get involved @ the APL, email us!  To be eligible for volunteering, youth must be currently in 7th-12th grade.
The APL's Teen Volunteer program is currently full. Applications will not be accepted at this time. 
UPDATE as of July 2021 the APL's Teen Volunteer program is not accepting new volunteers. Due to the ongoing construction occurring at the library we are not able to take new teen volunteers at this time. If you are interested in volunteering please check this page for updates and the situation evolves. We hope to begin accepting new teen volunteers in the fall. 
If you have any questions please email mwitherell@sailsinc.org!
Click below to access the teen volunteer application:
Steps to Becoming a Teen Volunteer:
Fill out an application and turn it in! Please note that volunteers are also asked to include a one page or less personal statement about themselves and why they are interested in volunteering with their application. On your application make sure you provide a current email address, this is the main way we get in touch with potential volunteers!
Wait to receive an email regarding the next volunteer training. Once you receive the email, respond to let Mrs. Witherell know if you plan to attend.
Attend volunteer training.
Once trained you are ready to start! (Volunteer training's are held 3-4 times a year depending on need and scheduling)
Just a reminder, due to the training and practice needed for our volunteer positions we are not able to accept volunteers who need to complete a very limited number of hours.  Also it does take some time to become a volunteer due to the application and training process, therefore our program may not be the best fit for a volunteer who needs to complete volunteering hours ASAP.
 2020 VolunTEEN Positions:
Book Reviewers– Choose a title from the list of options provided by Mrs. Witherell and write a short (2-4 paragraph) book review!
Children's Room Aides– shelve and organize children's books, help prep for children's activities, and help out at events for younger kids.
Collection Management– Research and recommend books, music and movies that you think we should have in the library collection for other teens to check out!
Program Assistants—  Assist the tween/teen librarian with summer reading programs!  Help set up the the room for the program, assist participants with the program and clean up afterwards.
Book Club Assistants– Read the book club book for the middle school or teen book club and attend the meetings to assist in running the discussion!
Volunteers are also encouraged to attend teen volunteer meetings a few times a year, where you get to meet other volunteers, learn about upcoming teen volunteer opportunities and suggest/plan upcoming teen programming.