You asked…we answered!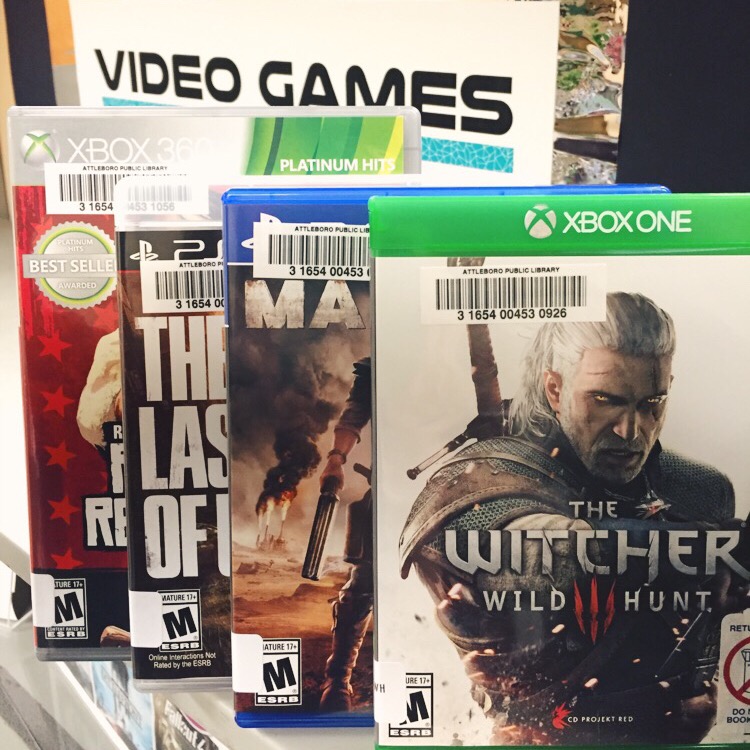 Here at the Attleboro Public Library, we strive to stay on top of our game (pun intended!), providing our community with the latest and greatest collections, services, and programs we can offer. Our family video games in the Children's Room have been flying off the shelves, but been we've been hearing that you want more…so we're giving you just that!
Our brand new collection of video games for teens and adults is now ready to be browsed and borrowed! It features popular Xbox One, Playstation 4, Xbox 360 and Playstation 3 games rated for Teen and Mature audiences (for more information on video game ratings, click here). Stop by and peruse the collection on the first floor within our Self-Service Holds area, right next to the Circulation Desk. Games are limited to 3 per person and can be checked out for two weeks (we do not allow renewals on video games at this time). Don't see what you're looking for? Keep checking in as new games will be added regularly. If you have any suggestions for particular games you'd like to see, let us know! Email your suggestions to Carrie Sylvia at csylvia@sailsinc.org.
In addition to the new games for teens and adults, we've also expanded our collection of games suitable for the entire family (rated E for Everyone). The Children's Room now features family games for Xbox One, Xbox 360, Playstation 3, and Wii.