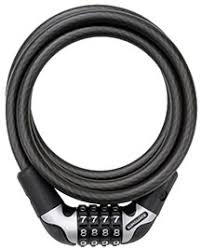 How you ask? By checking out one of our new bike locks! We have three combination locks available to be used with the library bicycle rack, while visiting the library. You can check them out for 3 hours with your library card, and you can renew them if you need longer.
"My two favourite things in life are libraries and bicycles. They both move people forward without wasting anything. The perfect day: riding a bike to the library." – Peter Golkin
Disclaimer: Regardless of whether a library bike lock is used, the City of Attleboro and the  Library are not responsible for any lost, stolen, or damaged bicycles. The borrower also accepts all legal liability associated with the use of the lock. By borrowing the bike lock, the borrower agrees to pay the full replacement cost of the lock if it  is not returned.