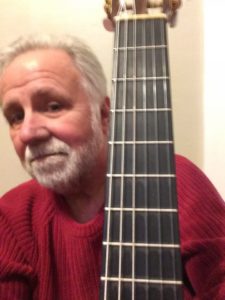 Station Eleven chronicles the journey of roving actors and musicians as they share their talents with survivors starved for something more than the basic necessities of life. This is in keeping with the NEA's Big Read which brings FREE cultural, educational and informative events to the city of Attleboro, eliminating barriers to access, such as cost and transportation. Big Read events are free, open to the public, and happening in our backyard!
On Saturday, September 9th, classical guitarist Mychal Gendron, will perform at the Library, immediately following the celebration at the Balfour Riverwalk Park. He has previously performed as a soloist, in symphony, and in chamber recitals in Europe, South America, and the US. In Attleboro, he'll perform "Airs and Dances-Renaissance and Baroque Music for Guitar" at 3pm. The music in "Airs and Dances…" comes from popular 16th-18th century songs and of France, Spain, and Germany. We hope to see you here!
Registration is helpful with set up for the event. Save yourself a seat by registering HERE.