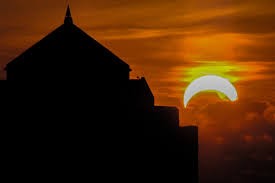 Many of us are looking forward to the impending solar eclipse on Monday, August 21. All of North America will see some of the sun eclipsed by the moon, but NASA notes that only those in the "path of totality" (which spans from Oregon down to South Carolina) will be able to see a total solar eclipse. According to NASA's Total Solar Eclipse Interactive Map, in Attleboro about 65 percent of the sun will be obscured by the moon.
Even quick glimpses can cause eye damage, so those who want to view the event safely must use glasses designed for viewing the eclipse. Eclipse-viewing glasses can be purchased through local retailers, and patrons are urged to choose reputable brands through legitimate sellers. There are many resources online for building your own eclipse viewer, including this one from National Geographic.
Additional information on the eclipse can be found on the Library's Pinterest board. If you're wondering when the eclipse will peak in your location, click here. Happy viewing!