"By paying tribute to the men and women whose only instrument is free speech, who imagine and act, UNESCO recognizes in poetry its value as a symbol of the human spirit's creativity. By giving form and words to that which has none – such as the unfathomable beauty that surrounds us, the immense suffering and misery of the world – poetry contributes to the expansion of our common humanity, helping to increase its strength, solidarity and self-awareness." So says Irina Bokova, Director-General of UNESCO.
The Attleboro Library promotes poetry by providing poets and poetry readers with a variety of materials to borrow. Illustrated classics like Homer's The Iliad, and much loved rhyming verse from Shel Silverstein and Jack Prelutsky are available, as well as the published writings by local poets and writers groups. Poetry collections for all ages can be found For readers looking to try poetry, but are unsure of where to start, we highly recommend An Invitation to Poetry edited by former US Poet Laureate Robert Pinsky. The DVD that accompanies this title showcases people of all ages and backgrounds reading their favorite poem. It is poetry inspiration at its finest.
Poetry writers will also find resources at the library, with writing manuals and advice found in both the adult and children's nonfiction collections. These resources include writing prompts, interviews with published poets and directories of publishers.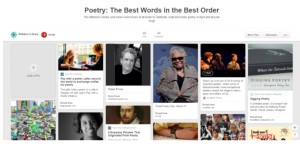 Whether you have poetry bubbling up inside of you, or if you haven't looked at a poem since you were required to in the classroom, now is a chance to test the waters. We invite you to take a look at some of the books and cds that we've put on display this spring. You can also browse our online Pinterest board for ways to incorporate poetry into your daily life.