Imagination! According to Albert Einstein, "Imagination is more important than knowledge. For knowledge is limited to all we now know and understand, while imagination embraces the entire world, and all there ever will be to know and understand." Imagination plays a big role in this year's celebration of The Big Read in Attleboro. The Big Read in Attleboro will focus on A Wizard of Earthsea by Ursula Le Guin. Activities will take place from September 12th through October 24th.
Attleboro's 1 ABC (1 Adventure, 1 Book, 1 Community) is a proud recipient of a grant of $10,000 to host The Big Read in Attleboro for the 9th year in a row.  A program of the National Endowment for the Arts, The Big Read broadens understanding of our world, our communities, and ourselves through the joy of sharing a good book. Managed by Arts Midwest, this initiative supports innovative community programs designed around a single title. A grant from the Attleboro Cultural Council will help support the kickoff exhibition at the Attleboro Arts Museum.
According to co-chair and library director, Joan Pilkington-Smyth, "Hold on to your hats, brooms, wings, capes, carpets, hovercrafts,  or other fantasy modes of transport as this year's Big Read is truly an adventure.  Our quest for you is to try something entirely different and imaginative as we provide the means to understand, discuss, and enjoy a totally new experience."
Attleboro's 1 ABC partners: Attleboro Arts Museum;  Attleboro Council on Aging; Attleboro Public Library; Attleboro Public Schools;  Attleboro YMCA; Bishop Feehan High School; Bridgewater State University; Bristol Community College; DoubleACS; Friends of the Attleboro Public Library; The Literacy Center; The Sun Chronicle will be joined by other community groups to provide a memorable experience.   Fantasy is one of the oldest forms of literature known to man.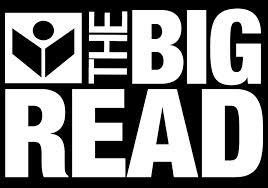 This year's programs will focus on mythology, international folktales, fairy tales, graphic novels, comic heroes, and fantasy literature. From Superheroes to Star Wars, Attleboro has it covered. Participants can look forward to The Attleboro Arts Museum Exhibit, "The Balance of Nature," followed by: Fairy Walks, Geocaching, film showings, writing projects, wizards, dragons and dreams, stargazing, a visit from a Magician/Author, Fantasy Trivia Night, and a Star Wars Symposium.  The first event, including a book giveaway, will take place on Saturday, September 12th, from 1-3pm at the Balfour Riverwalk Park.  All are invited to attend wearing family friendly fantasy character costumes. The Boston Super Heroes group will be on hand, visitors will have the opportunity to test their Super Hero powers, listen to international storytelling, and additional activities for all ages.
Join us in creating an experience of reading that allows everyone to become a partner in making the written word come alive through artistic and cultural experiences.  Let your imagination run free and let the FUN begin!
NEA Chairman Jane Chu said, "The Big Read is a powerful example of how the arts can bring communities together and help us to connect with one another. These 75 organizations, including Attleboro's 1 ABC, are creating valuable opportunities for their communities to share wonderful stories and characters and to have meaningful conversations."
For more information about The Big Read please visit neabigread.org.