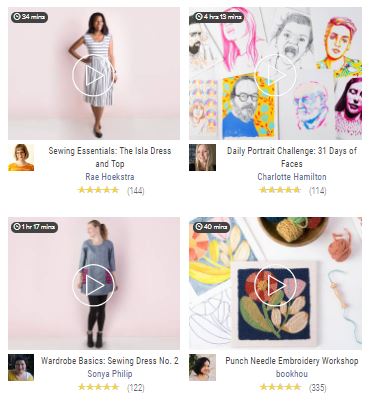 Maya Angelou once said "You can't use up creativity. The more you use, the more you have." Here at the library, we couldn't agree more, which is why we strive to be a source of inspiration for our community. We've seen our patrons checkout stacks of books on painting, knitting, papercrafting, holiday gift-making, and more (the list truly goes on and on!). Because we are more than just books, we wanted to provide our customers with other opportunities to be get their creative juices flowing. In comes Creativebug, our newest database that offers more than 1,000 award-winning art & craft video classes taught by recognized design experts and artists. If you've shopped at JoAnn Fabrics recently, you may have been asked by a cashier if you wanted to try a free trial of Creativebug. Why pay for a subscription though when you can access the same website for FREE?! All you need is an Attleboro Public Library card! To access Creativebug from home or at the library, simply visit our Online Resources, which can be found under the eLibrary tab. Enter your library card number and your PIN (last four digits of your phone number) and you're good to go! As always, feel free to stop by or give the library a call at 508-222-0157 if you have trouble accessing Creativebug or any of our databases.
If you are looking to get your craft on right here at the library, keep an eye on our events calendar. We will be doing regular arts and crafts programming, such as our upcoming encore workshop on Pulled String Painting on Monday, November 19th at 6:30pm.
We'd love to see what Creativebug inspires you to create! Stop by the library with your projects or tag us on Facebook or Instagram and show off your work…you deserve it!