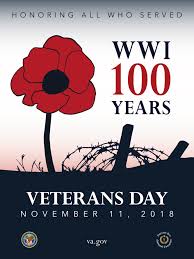 The Attleboro Public Library will be closed on Monday, November 12, 2018, in observance of Veterans Day. The library will resume its regular hours of operation at 8:30 AM on Tuesday, November 13, 2018.
This holiday started as a day to reflect upon the heroism of those who died in our country's service, and was originally called Armistice Day. It fell on Nov. 11 because that is the anniversary of the signing of the Armistice that ended World War I. However, in 1954, the holiday was changed to "Veterans Day" in order to account for all veterans in all wars.
To learn more about past and present members of our nation's armed forces, visit the United States Department of Veterans Affairs' website. Attleboro's own Veterans Department can be found online and on the second floor of City Hall. To find a list of Veterans Day events happening in the area, visit The Sun Chronicle online.