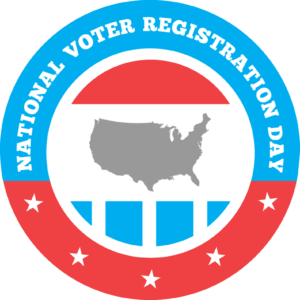 On Monday night, September 24th from 6-8pm, and on Tuesday, September 25th from 9am-4pm, you can register to vote AT YOUR LIBRARY! That's right, we're making it easier than ever to take part in the democratic process!
For the first time, the Attleboro Public Library is taking part in National Voter Registration Day, a national holiday since 2012. Held on the fourth Tuesday of September, the holiday has been endorsed by the National Association of Secretaries of State (NASS) and the National Association of State Election Directors (NASED). Every year millions of Americans find themselves unable to vote because they miss a registration deadline, don't update their registration, or aren't sure how to register. National Voter Registration Day wants to make sure everyone has the opportunity to vote.
The NVRD website says that, registered American citizens will be deciding the following, IF they are registered to vote:
• 435 seats in the United States House of Representatives
• 35 seats in the United States Senate
• 39 state and territorial governorships
• Various other state and local election
Reasons people need to register, OR update their registration:
When you'll turn 18 by Election Day – or
prior to that if your state allows 16 and 17-
year-olds to pre-register.
When you're a newly naturalized citizen.
When you move, even if just across town.
When you change your name.
When you haven't voted in a while, in which
case your registration may have been
removed due to inactivity even though
you're still at the same address
Have questions? Visit us at the Library!