What is the Big Read? According to the NEA website, "A program of the National Endowment for the Arts, NEA Big Read broadens our understanding of our world, our communities, and ourselves through the joy of sharing a good book. Managed by Arts Midwest, this initiative offers grants to support innovative community reading programs designed around a single book." The title inspiring this year's calendar of events is Station Eleven, by Emily St. John Mandel, described as, " 'Equal parts page-turner and poem' (Entertainment Weekly), the novel is set 20 years after a devastating flu pandemic destroys civilization as we know it. A woman moves between the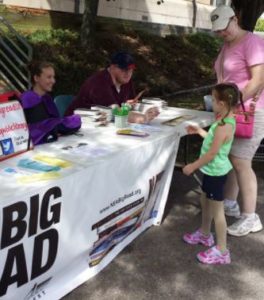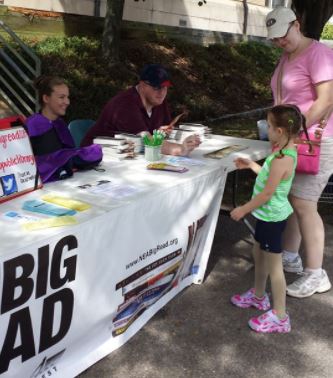 settlements of the altered world with a small troupe of actors and musicians until they encounter a violent prophet who threatens the tiny band's existence. "Possibly the most captivating and thought-provoking post-apocalyptic novel you will ever read"(The Independent London)."
Help the city celebrate it's 11th Big Read on Saturday, September 9th, from 1-4pm in the Balfour Riverwalk Park and next door at the Attleboro Free Public Library. It's International Literacy Day and we have a lot to celebrate! In addition to handing out FREE copies of Station Eleven, we'll also have the event calendar listing dozens of programs happening throughout the fall. These events will take place at a variety of locations around Attleboro and will focus on different themes in the book. Programs will include talks, walks, performances and an art exhibit.
Attendees at Saturday's launch are encouraged to bring a lunch and "join us for a family-friendly, fun-filled afternoon," says Rusty D'Arconte, NEA Big Read/Attleboro's 1ABC co-chairman. If it rains, all activities will be held in the Library- a lunch free zone in order to maximize space for the programming.
Playing off the themes in this year's read, "Station Eleven" by Emily St. John Mandel, there will be story times, a description of survival skills and plenty of classical music. "Station Eleven" is about our world 20 years after a pandemic that destroys nearly all of Earth's population. In the story, Mandel incorporates a graphic novel storyline, Shakespearean plays, classical music, a traveling settlement with "Survival is Insufficient" as its philosophy, plus love, friendship, a desire to create history and culture  and, when necessary, the basic means of survival.
The author herself will be in Attleboro for a program on Tuesday, Sept. 19, at Thacher Elementary School.  Registration is required. Go to www.attleboros1abc.org or call the Attleboro Public Library at (508) 222-0157.
The September 9 launch coincides with the celebration of International Literacy Day.  From 1-3pm, activities include: a reflection of the device-free world of "Station Eleven," storyteller Bernadine Veiga will read about two kids experiencing technical difficulties in two separate stories. Listeners will learn how both characters learn to have fun with no gadgets or TV in the stories "Penny Lee and Her TV" and "TEK The Modern Cave Boy." Children will also complete a craft to bring home.  Registration for this event is encouraged but not required. Go to www.attleboros1abc.org or call the Attleboro Public Library at (508) 222-0157.   With survival a key component of the world in this novel, there will be a program of interactive skills by Mu Han Martial Arts.  On the music side, The Unlikely Strummers, a ukulele jam band, will play upbeat family-friendly songs and some classical music. The Literary Center will re-enact the airport scene in the book, sharing words of welcome in the many beautiful languages of the students at the Center.
At 3pm on Sept. 9th, a musical event with veteran classical guitarist Mychal Gendron will take place in the Marble Lobby of the Attleboro Public Library. Gendron has toured Brazil as a soloist with Partners of the Americas, performing in music festivals and on television in that country, and also performed in chamber music recitals in France and has presented solo guitar recitals throughout the United States.
Regionally, he has performed concertos with the Vermont Symphony, the Cape Ann Symphony, the Rhode Island Philharmonic Community Orchestra, the Ocean State Chamber Orchestra and the Fall River Symphony.  Registration for this musical event can be found at www. attleboros1abc.org, or by calling the Library at (508) 222-0157.