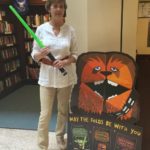 May 4th might be a normal day for most patrons, but for some in our galaxy, it holds a significant second meaning…Star Wars fans know this day as Star Wars Day, as a pun to the Jedi salutation "May the Force Be with You."
You don't have to be a Jedi Master to celebrate this day. Ever since Star Wars hit the big screens, the story of good versus evil has captivated people around the world. Both movies and books have introduced many to the Science Fiction genre. There is even a website dedicated to the event with information on celebrations worldwide.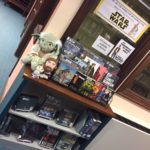 The Attleboro Public Library has joined the celebration, thanks to the talent and collections of local fans. A Lego Star Wars Lego Brick collection is on display in the Marble Lobby, along with books, posters and memorabilia. Although none of the items are priceless, their worth is beyond value for these ardent fans.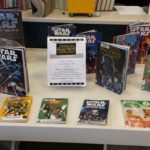 Join the fun and celebration this May, and check out the associated Pinterest board for additional resources!