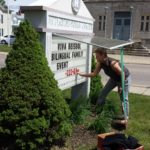 Volunteering at the Attleboro Public Library takes many forms. We have children that help promote the Summer Reading Program by marching in the Memorial Day Parade. We have teens that assist with programs and write book reviews. We have adults working in all departments, covering and labeling books, repairing broken items, shelving and organizing. The Library Board of Trustees is a volunteer organization, as well as our Friends of the Library group. So many people share their time and their talent to make the APL a welcoming place to visit.
Each year, the Attleboro honors the many volunteers in the city with a beautiful luncheon and ceremony. The Library is proud to be a part of the festivities, welcoming the opportunity to thank the dedicated people committed to making Attleboro the best it can be.
The staff of the Attleboro Public Library appreciates the many enthusiastic, smiling volunteers that work with us. Their help and positive outlook makes a difference every day, making the Library a brighter place to be!