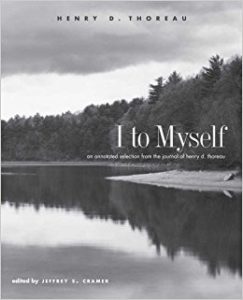 The woods at the Oak Knoll Wildlife Sanctuary in Attleboro will echo with the words of Henry David Thoreau on Saturday, April 1. The Mass Audubon facility is the site for a reading of selected Thoreau writings as part of the Attleboro Public Library's celebration of the Thoreau Bicentennial, a state-wide project.
Strollers on the quarter-mile path at Oak Knoll, a doable walk for all ages, will encounter along the way volunteers reading entries from Thoreau's diary, "I to Myself."
The walk will begin at 10am. Light refreshments will be served in the Oak Knoll meeting area afterward.
This event will be held rain or shine. Participants are urged to wear appropriate clothing and footwear for the weather the day of the walk.
To register, contact the Attleboro Public Library at 508.222.0157 or visit our online registration page.
The reading corps will include, among others, Kathy Hickman, Gerry Hickman, Laurie Drucker, Rusty D'Arconte and Elise Laforge.