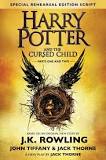 Eighteen years after the first Harry Potter book, Harry Potter and the Sorcerer's Stone, made its US debut, and 9 years after the publication of the 7th book in the series, Harry Potter and the Deathly Hallows, Harry Potter returns in the new publication: Harry Potter and the Cursed Child!
Despite several literary additions to the Harry Potter Universe over the years (Fantastic Beasts and Where to Find Fhem; Quidditch Through the Ages; and The Tales of Beedle the Bard) there hasn't been an official update to Harry Potter's story in almost a decade. Although fans of the series flocked to the online site Pottermore, a J.K. Rowling-created world of everything Harry Potter (launched in 2012), the hope for another book continued.
Rumblings of a new story began in early Fall of 2015, and then the Official Synopsis was announced on the Pottermore site that October: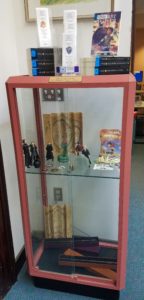 It was always difficult being Harry Potter and it isn't much easier now that he is an overworked employee of the Ministry of Magic, a husband, and father of three school-age children.
While Harry grapples with a past that refuses to stay where it belongs, his youngest son Albus must struggle with the weight of a family legacy he never wanted. As past and present fuse ominously, both father and son learn the uncomfortable truth: sometimes, darkness comes from unexpected places.
So, what do you need to know about Harry Potter and the Cursed Child?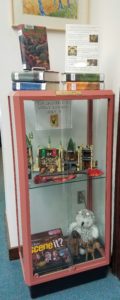 This publication is actually the script of a play, based on an original story by J.K. Rowling, Jack Thorne, and John Tiffany.
The story picks up where Book 7 left off, 19 years after the events of Harry Potter and the Deathly Hallows. Ron and Hermione are also part of the tale, however, the focus is on Harry and his son Albus.
The play's official run began July 31st, however it has been in previews in London since June.
Intrigued? Want to re-read the series? Reminisce about your first introduction to Harry Potter? Stop by the APL and visit our Harry Potter displays on the second floor. Pick up a bookmark (or 4) with the Hogwart's House crests, place a hold on the new publication, or borrow an existing Harry Potter book, in English or Spanish!