"To get back up to the shining world from there
My guide and I went into that hidden tunnel,
And Following its path, we took no care
To rest, but climbed: he first, then I-so far,
through a round aperture I saw appear
Some of the beautiful things that Heaven bears,
Where we came forth, and once more saw the stars."
-Dante Alighieri, Inferno
Welcome to our 10th anniversary community-wide reading project. Brought to you by the partners of Attleboro's 1 ABC (1 Adventure, 1 Book, 1 Community), with sponsorship through Bristol County Savings Bank and support from the Attleboro Cultural Council, Attleboro's Big Read promises a journey inward as you touch upon those experiences that cultivate our memories and make us who we are. This year's choice, The Beautiful Things That Heaven Bears by Dinaw Mengestu, will open eyes to the difficulties of necessitated emigration and the losses one experiences while trying to establish a new life.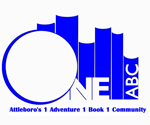 As a year in which we tackle a serious topic, our committee was riveted by this Ethiopian immigrant's first novel. Dinaw interweaves various personal stories of attempts to be American, into one flowing tale based on the main character, Sepha and his friends. In our past programming for our "Becoming American" series, we heard Attleboro's coming to America stories from the past 100 years.   Attleboro has a rich and varied history of individuals from many countries who have shared their skills, beliefs, expertise, and hopes- thus shaping Attleboro into a community and our home. Mengestu's novel brings us a similar sharing of experiences in our nation's capital, Washington, D.C.  According to the critics: In The Beautiful Things That Heaven Bears, "Mengestu's assured prose and haunting set pieces … are heart-rending and indelible."  (Publisher's Weekly).   The New York Times adds, "What more potent setting is there than Washington for a novel about the architecture of hope and memory?"
In this year's Big Read, themes such as Identity, Belonging, Friendship, and Memories present themselves in our art exhibit,programs, writing series, and discussions.  Kicking off in September, the Attleboro Arts Museum's Exhibit, "Distinguishing Features" brings us art in response to the novel's theme of struggling with how to live with and maintain memories. Bristol Community College will once again offer the Manhattan Short Film Festival, a culturally enriched international event.  A walk sponsored by the Attleboro Y and the Attleboro Industrial Museum with assistance from the Attleboro Historical Commission will take us through our community's downtown "Then and Now." Understanding one's community helps us gain a sense of belonging here. Kathy Hickman and the Community Visiting Nurses will host a book talk with Wheaton professors on themes from the book. The Council of Churches and The Literacy Center will share local immigrant stories.  The Friends of Attleboro Public Library and The Literacy Center will present their acclaimed International Coffee & Tea, bringing the flavors of many countries to the library for all to experience. An African themed dinner is planned for the finale featuring the AHS Culinary Arts Department.   Writing opportunities and school participation are outlined on their own unique calendar pages.
As we mark our first decade of participating in an exciting cultural and literary experience, we ask you to share with us your stories which have become a part of creating our community, our city, our home.