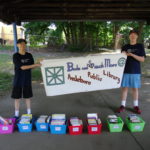 In an effort to reach families not able to get to our building, the Attleboro Public Library has started traveling! This "Library On the Go" started at the end of June when Mrs. Brown and some adventurous volunteers appeared at various locations throughout the city, at the Recreation Department's Arts & Crafts program as well as Kids' Cafe sites.
What is Library On the Go?  Simply put, it is a mobile library, with a librarian and reading material that can be checked out.  It provides families throughout the city with access to reading material and library cards, allowing them to engage and connect with the library outside of its walls.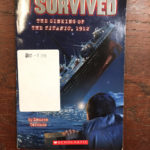 The process is simple, kids flip through the books, pick what they want and get them stamped with the due date.  The due date is when Library On the Go will be returning to that particular site.  Families can then return the books at that same site, or bring the book directly to the Library.
Watch our Calendar of Events and Facebook page for the schedule!