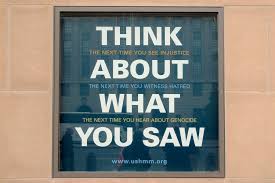 In honor of all those whose lives were taken or forever changed during the Holocaust, the United States Congress established Days of Remembrance.  Each year across the country groups come together to remember victims and survivors as well as educate young people on the many lessons learned from this unimaginable event in our history.  This year Holocaust Remembrance Day falls on Thursday May 5th. Visit the library during May to view and check out resources from our Jewish heritage month book display for adults and our Holocaust Remembrance display in the children's room for middle school age youth.
On May 11, 2016 from 6:30pm-7:30pm the library will be hosting a presentation by Holocaust Survivor Alice Goldstein.  Ms. Goldstein was born in a village in the Black Forest of Germany at the beginning of the Nazi era.  She and her family experienced all of the devastation that led up to the Holocaust.  Ms. Goldstein is a retired demographer/historian and Senior Researcher at Brown University's Population Studies and Training Center.  We invite patrons in grade 6 through adults to join us in hearing her important insight into this time in our world's history and what can be learned from such atrocities to ensure that injustices such as this are never again part of our present or future.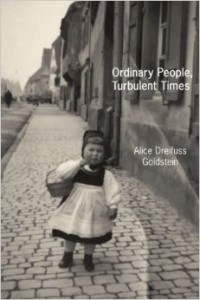 Want to learn more about Alice Goldstein?  She has written a book called Ordinary People; Turbulent times.  You can pick a copy up on your next visit or reserve a copy through our library catalog here. 
Interested in attending the presentation on May 11th here at the library?  Registration is required and space is limited, register today here.
A special THANK YOU to the Sandra Bornstein Holocaust Education Center of Rhode Island, Alice Goldstein and the Trustees of the Attleboro Public Library for making this program possible.