May is Mental Health Awareness month and the Attleboro Public Library is
hosting several displays around the building to bring awareness to mental health issues.
There is a great deal of stigma surrounding mental health, the APL wants to open a dialogue by providing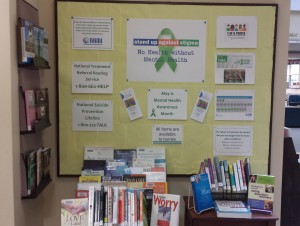 information about mental health, and the stories of people touched by this type of health challenge.
It is estimated that one in five American adults experienced a mental health issue, and that one in 10 young people experienced a period of major depression. The APL offers many resources, including books, documentaries, and online databases, to help educate the public on mental health concerns and to highlight common issues, which in many cases, respond well to early intervention and treatment.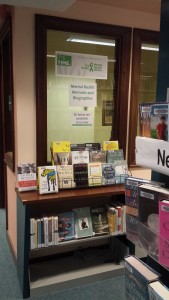 Our community is fortunate in that there are many local agencies also promoting health and wellness, including the United Way and the South Bay Mental Health Center.
There are books in the Main Lobby on a variety of mental health topics and information about mental health from Mental Health America, as well as the NAMI, the National Alliance on Mental Illness. The 2nd floor near the Fiction collection has memoirs and biographies on Mental Health topics.
Please see the displays and our Pinterest board for additional information and resources.