Did you know that the library hosts a World War II Nonfiction Book Club? Over the years, the book club has read
some wonderful titles which often coincide with popular fiction titles. If you loved The Nightingale by Kristin Hannah, then try Caroline Moorehead's A Train in Winter: An Extraordinary Story of Women, Friendship, and Resistance in Occupied France. A Train in Winter tells the story of French women of all ages who were arrested, imprisoned, and sent to Auschwitz.  Additionally, Avenue of Spies: A True Story of Terror, Espionage, and One American Family's Heroic Resistance in Nazi-Occupied Paris is a hair raising account of American doctor Sumner Jackson, and his family's work helping Allied pilots shot down behind enemy lines.
Suite Francaise, by Irene Nemirovsky, takes place in Nazi occupied France and is comprised of two novellas written by the author before she was arrested; the book was published fifty years after her death in Auschwitz.   Sarah's Key, by Tatiana de Rosnay, centers on a family caught up in the infamous Vel d'Hiver roundup of Jews in 1942 Paris and the devastating consequences of that day.
Hidden Like Anne Frank: Fourteen True Stories of Survival is a compilation of the stories of Jewish children who, although forever traumatized, survived World War II. Their remembrances of the valor, and sometimes cruelty, of the people who hid them, and their confusion in being separated from their parents, resonate with the reader.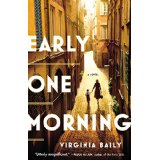 Early One Morning by Virginia Baily is a fictional tale set in occupied Rome and is the story of the repercussions of one impulsive act to save a Jewish child. Finally, But You Did Not Come Back by Marceline Loridan-Ivens is a memoir which recounts her arrest by the Gestapo at the age of fifteen, the death of her father in a concentration camp, and the lasting effect of this loss on her life.
The WWII Nonfiction Book Club meets monthly in the library. New members are always welcome. For more information, check out the book club's Pinterest board or contact Kate Hibbert at khibbert@sailsinc.org.