Fall is here, and with it comes the latest schedule in the Augat Children's Room. Here in Attleboro, we feel that libraries have an important role to play in the intellectual development of young children.  Story times and other library programs open up the world of books, music, culture, science and play to babies, toddlers, families and young children and all of it is FREE.
We offer weekly programs for babies, toddlers & preschoolers.  During evenings and school vacations, we offer activities for children of elementary, middle and high school age.  To get email updates on programs, subscribe to "Book Bites", our Children's Room newsletter by sending your contact information to us at attleborokids(at)sailsinc.org.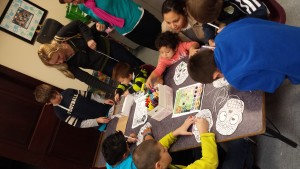 You can see our weekly & monthly programs by visiting to our events calendar.   All programs are free, and most require registration.  You can register by following the link in the calendar, stopping by the desk or giving us a call at 508-222-7820.