At the Attleboro Public Library, we celebrate literacy every day, so you can imagine our delight when a national holiday like El día de los niños/El día de los libros (Children's Day/Book Day) comes along!
This holiday, called Dia! for short, and supported by the American Library Association, originated in Mexico and was brought to national attention in the US by Pat Mora, author and illustrator of "Book Fiesta". This initiative emphasizes the importance of literacy for all children from all backgrounds, and encourages linking children and families to diverse books, languages and cultures.  The staff and volunteers of the Attleboro Library encourage everyone in the community to stop in and browse our selection of multilingual and multicultural materials.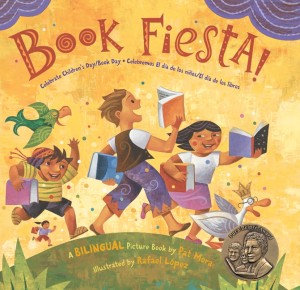 These materials are shelved throughout the building and are also available online. Electronic resources, including CultureGrams and Mango Languages, enable all of our cardholders to virtually visit countries around the world and to learn other languages – all for FREE.
The library is seeking patron opinions on our foreign language collections and a brief survey for Spanish speaking visitors is now available, encouraging input on how to add to our Spanish language material.