The sun is shining and Spring appears to have finally arrived, just in time to celebrate Earth Day! This Wednesday, April 22nd, make sure to add the Attleboro Public Library to your Earth Day agenda. Our third floor display is fully stocked with gardening books to help your plants thrive. And while you're at it, don't forget to grab some seed packets from our seed library at the circulation desk. They've been going fast, but we still have a few flower and veggie seeds up for grabs. If you're looking for something good to read, check out the library's top picks for Earth Day below.
Attleboro Public Library's Top Reads for Earth Day
Animal, Vegetable, Miracle  by Barbara Kingsolver
When Kingsolver and her family move from suburban Arizona to rural Appalachia, they take on a new challenge: to spend a year on a locally produced diet, paying close attention to the provenance of all they consume. "Our highest shopping goal was to get our food from so close to home, we'd know the person who grew it. Often that turned out to be ourselves as we learned to produce what we needed, starting with dirt, seeds, and enough knowledge to muddle through. Or starting with baby animals, and enough sense to refrain from naming them."–From publisher description
Hot, Flat, and Crowded: Why we need a green revolution and how it can renew America  by Thomas L. Friedman
Pulitzer Prize-winning author Thomas L. Friedman speaks to America's urgent need for national renewal and explains how a green revolution can bring about both a sustainable environment and a sustainable America. Friedman explains how global warming, rapidly growing populations, and the expansion of the world's middle class through globalization have produced a dangerously unstable planet–one that is "hot, flat, and crowded."  Hot, Flat, and Crowded is classic Thomas L. Friedman: fearless, incisive, forward-looking, and rich in surprising common sense about the challenge–and the promise–of the future. –From publisher description
The Omnivore's Dilemma  by Michael Pollan
Today, buffeted by one food fad after another, America is suffering from what can only be described as a national eating disorder. Will it be fast food tonight, or something organic? Or perhaps something we grew ourselves? The question of what to have for dinner has confronted us since man discovered fire. But as Michael Pollan explains in this revolutionary book, how we answer it now, at the dawn of the twenty-first century may determine our survival as a species.–From publisher description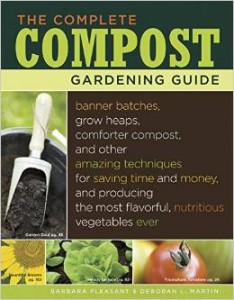 The Complete Compost Gardening Guide  by Barbara Pleasant and Deborah L. Martin
Barbara Pleasant and Deborah L. Martin turn the compost bin upside down with their liberating system of keeping compost heaps right in the garden, rather than in some dark corner behind the garage. The compost and the plants live together from the beginning in a nourishing, organic environment. The authors' bountiful, compost-rich gardens require less digging, weeding, mulching, and even less planting. And here's one of the best parts — no more backbreaking slogs from compost bin to garden. The authors even identify the plants that benefit most from compost and how the elements of a composted garden work together. –From publisher description


The Lorax  by Dr. Seuss
When Dr. Seuss gets serious, you know it must be important. Published in 1971, and perhaps inspired by the "save our planet" mindset of the 1960s, The Lorax is an ecological warning that still rings true today amidst the dangers of clear-cutting, pollution, and disregard for the earth's environment. In The Lorax, we find what we've come to expect from the illustrious doctor: brilliantly whimsical rhymes, delightfully original creatures, and weirdly undulating illustrations. But here there is also something more–a powerful message that Seuss implores both adults and children to heed. -Amazon.com review
Fancy Nancy Every Day is Earth Day  by Jane O'Connor
After learning at school that "every day is Earth Day," Fancy Nancy takes her lessons home. After espousing rhyming "green rules" to her family ("Dad, don't waste water. Get clean, but stay green!"), Nancy ramps up the eco-enforcement, and minor mishaps result: Mom loses work, for example, when Nancy turns off the computer to save energy. The story's messages about balancing environmental enthusiasm with tolerance and common sense bring fresh angles to this well-paced installment in the consistently strong early reader series. As usual, the exuberant line-and-wash illustrations amplify the story's sense of messy, creative fun. Grades K-2. –Gillian Engberg, Booklist

Home & Garden eLibrary
Attleboro Public Library offers Home and Garden online resources, which provide patrons with journals and e-reference sources on topics such as Agriculture, Horticulture, Gardening and Landscaping. Whether you're a professional doing research, or an enthusiast looking for tips and tricks, you're sure to find these resources useful. These databases can be accessed at the library, or remotely with an Attleboro library card.