It's Women's History Month, the month where we celebrate the lives and accomplishments of women. All around the library you will find displays of books by and about women. I want to talk today about one specific genre of fiction that is written by women, about women, for women. A genre of fiction that is sometimes considered not as "valuable" as other genres of fiction. I am talking about romance. Reading is my favorite pastime and I enjoy every genre from cozy mystery to literary fiction. But my favorite genre, by far, is romance. Not only do romance novels always feature a happy ending, they tell stories of women are who are being empowered- personally, professionally, and romantically. I first discovered the joy of reading romance in high school but it wasn't for some years later that I read the first romance novel that really revealed to me just how empowering the genre is. That novel was Dance upon the Air by Nora Roberts.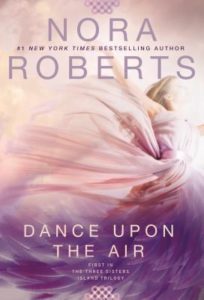 Nell Channing has finally escaped her abusive husband, but it wasn't easy. She has had to fake her own death to free herself from him. She is seeking refuge on a quiet island in Massachusetts, the Three Sisters Island, and has taken a job as a cook for the local bookstore café. In order to stay safe she must keep her identity a secret, but when she begins to develop feelings for the island sheriff she begins to question whether she ever truly break free of her fear. Aware of her new friends distress the bookstore owner Mia takes Nell under wing and discovers that Nell is, like herself, a powerful witch. It is then that Mia realizes Nell must be one of the Three Sisters prophesied to break the curse that rests on the island. What I love about Dance upon the Air is that it is all about Nell reclaiming her power. She was willing to do whatever necessary to free herself from her husband and now, on the island, is she reclaiming her emotional power.  Then she learns she is a witch and begins to claim a much more physical power. There is also the power of female friendship, a theme that is strong in Roberts' novels. This is a novel I return to again and again and not necessarily for the romance. The romance between Nell and the sheriff is understated in comparison to other romance novels I've read because Nell's transformation really takes center stage in this novel.
If stories with a historical setting are more your speed then I highly recommend Romancing the Duke by Tessa Dare.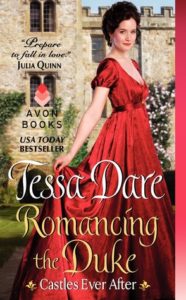 Dare writes fun, light novels that border on romantic comedy and almost all of her stories feature a heroine who is who has been, for some ridiculous reason or another, deemed an outcast and shunned by society. The Regency era was a time where women were expected to behave in very particular and any deviation from that behavior would have dire consequences. Whether because they are "too old" to wed or because they pursue "traditionally male" ambitions Dare's characters are challenging the status quo simply by existing.  Romancing the Duke opens as the heroine, Isolde Ophelia Goodnight, receives a letter informing her that she has inherited a castle from an obscure long-lost relative. She's completely astounded by the information because it is practically unheard of for women to own, never mind inherit, property. Uncommon though it may be Izzy is immensely relieved to have a place to live out her sentence as a spinster. At least, that's what she thinks she's getting until she arrives at her new home to find it occupied by one Ransom Vane, Duke of Rothbury. Isolde is empowered from the very beginning when she inherits the castle and continually throughout the novel as she begins to develop, and act on, feelings for Ransom.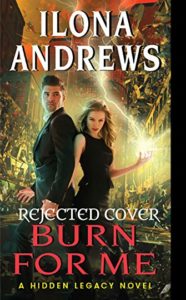 Last, but certainly not least, is a new favorite of mine- Burn for Me by Ilona Andrews. Burn for Me is the first in an urban fantasy trilogy where the romance unfolds slowly throughout the series. If you find yourself having a hard time buying that a couple can fall in love and find their happily ever after in the span of one book then I definitely recommend this series. The romance is what fans of the genre call a "slow burn" but there is nothing slow about the plot of this novel at all. The heroine is private Investigator Nevada Baylor the woman kicks serious butt- and not just metaphorically. In Burn for Me Nevada is tasked by a powerful magic family to bring in their son who is committing violent pyrotechnic crimes all across the city. It isn't long before her investigation puts her in the cross-hairs of the powerful and dangerous magic user Connor "Mad" Rogan. The story is part fantasy, part mystery, part romance, and all action-packed. Physically Nevada can hold her own in a fight but she also holds her own in a field dominated by men and she doesn't take flak from anyone. She runs a business, she's the backbone of her extended family, and as the series progresses she begins to discover and develop power of a more magical kind. This is a fun, fast paced series that features romance but doesn't necessarily center on it.
Whether you like to read contemporary, historical, or scifi/fantasy there is likely a romance novel out there that suits your tastes. Romance novels always feature a happy ending and, as someone who has been left devastated by the end of a novel more than once, sometimes I just want to know everything works out for the characters before I invest emotional energy. Also, sometimes real life can be challenging enough and there is nothing wrong with a little literary escapism. Good romance novels feature couples who have to work hard for their love, who face obstacles and over come them together. But most importantly they feature women who are claiming their lives for themselves- pursuing their dreams regardless of how challenging it may seem or how many people have told them they couldn't do it. What is more empowering than that? If you've read any of the novels mentioned here, are a fan of the genre in general, or are simply looking to "talk books" with someone I would love to connect with you. You can find me on Facebook as Elise LaForge- Librarian. Happy Reading!