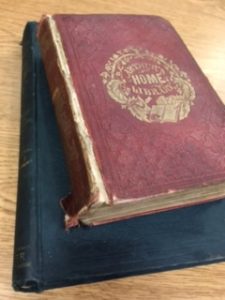 We would like to shed our own light on the saga of the "long overdue" library book recently returned to the library. As they say, the internet can give you a thousand answers, but a librarian can give you the right one. I hope to answer all of your questions regarding this incident. On Tuesday, September 19th a gentleman brought three books into the library. He had found these items in a friend's basement, saw that one had Attleboro Library stamps on it, and thought we would want them. Two books had no library markings and are of no matter to this tale (of three books?).
One book, a how-to book called "The Lady at Home, or, Leaves from the Every-Day book of an American Woman," was written by Timothy Shay Arthur and published in 1850.  That is all we can truly know about this book, other than at one point in time this copy did belong to the Library. The book had a due date card stamped "Nov 21 1938," however this is not hard and fast evidence that it was overdue. It is possible  someone checked out this title in the Fall of 1938 and never brought it back. It is also entirely possible that it was returned on or near it's due date, the card itself left in the book upon reshelving; then at some point between 1938 and 1999 that the book was removed from the Library collection, and bought at a book sale. The book may not have been stamped "discarded," when withdrawn from the collection. Either way, the book left the library (discarded or checked out) prior to computerization of records. If the book had been checked out post 1999 and never brought back, then we would have a record of it in our computer system, would know who had checked it out. Since this is not the case, we have no way of knowing IF the book was overdue at all, let alone who had checked it out, would that be the case. We have no intention of seeking overdue fines that could have possibly accrued, even if we had records of who had checked out the book. Also, such records are private and names would not be available to the public.
While we do hope that library users will return their materials on time, it is our greater hope that items are simply returned. It is the very concept of the public library, for all items and materials to be shared by all users.  Items may be checked out for four or two weeks, depending on what they are. Overdue fines are currently .10 cents a day per item.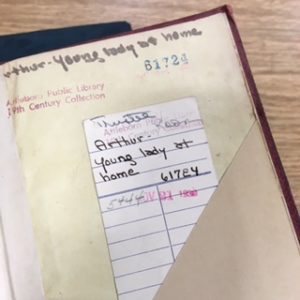 Today, our library collection houses 130,000 items, including but not limited to DVDs, puzzles, books, audio books, downloadable e-books, downloadable audio books, magazines, and subscriptions to online resources such as Ancestry and Chilton manuals.  We have a historical collection of materials relevant to the Greater Attleboro area for research. We do have limited space, especially in this collection. Due to this, and the book's condition, we were unable to return the item to the collection. Our goal as a public library is to provide the community with materials for educational and recreational use. Budgeting and space create a climate in which we carefully choose which items to purchase and keep in house and in our virtual, digital library. We are not strictly a historical library and while we love all books, readers, and happy endings, this "Lady at Home" title will not find it's forever home in Attleboro's literary institution.