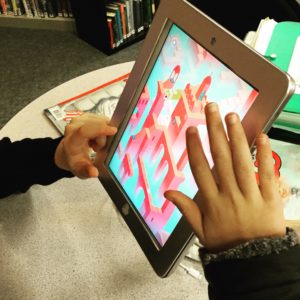 The new year has brought new technology to the Augat Children's Room of the Attleboro Public Library! iPads for children ages 7 years and up have arrived.  Funded by Curiosity Creates, a grant awarded by the Association for Library Service to Children, the two tablets have apps for reading, math, art, science and fun!  One tablet is located behind the staff desk and the other is in the Middle Reader collection.
Today's kids have grown up with touch screens, internet access and digital content, and know how to use just about any device that comes their way. Many children may find the iPad more natural and easy to interact with than a traditional computer. Tablets and their touch screen, and varied capabilities are engaging for children.  These iPads allow kids to play educational games, improve their reading and even flip through a fun, interactive version of their favorite book.
While there are some great apps ready to explore, children may also use the tablets to surf the internet.  The devices are tamper-proof and are password secured, so users will not be able to download or save anything and also cannot remove the preloaded apps.
The policy for tablet use is the same as our current computer use policy.  The tablets can be used for a 30-minute time period and are meant for patrons in grades 8 and under.