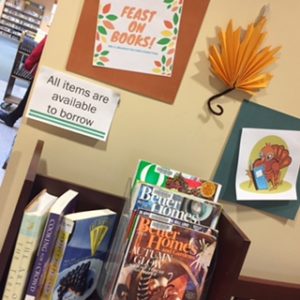 Every November our hearts grow in size, along with our waistlines, because of the many things we have to be grateful for. At the Attleboro Public Library, our staff, board and volunteers are so very grateful for the patrons that make our library hum with activity each and every day. Your visits, whether daily, monthly or occasionally, are the reason we love to be here.
As a way to say thank you, we've compiled a list of resources to make your holiday easier this year.
Roasting a turkey? Butterball has tips for you! http://www.butterball.com/how-tos/roast-a-turkey
Want to learn pie baking? Universal Class, our FREE online learning venue, has just the thing! https://search.universalclass.com/fastcgi/slsearch.htm?SearchString=pie&SearchButton=GO
Travel plans? Travel + Leisure magazine has you covered! http://www.travelandleisure.com/thanksgiving-travel
Staying home? Get all the info on the 2016 Macy's Thanksgiving Day Parade here. http://social.macys.com/parade/2016/lineup/
Want to simply count your blessings? Try these great books on gratitude: Focus on the good stuff : the power of appreciation / Mike Robbins and Living life as a thank you : the transformative power of daily gratitude / by Nina Lesowitz and Mary Beth Sammons.
Want to encourage the children in your life to be thankful? Start with this list from Brightly.
However you're spending the day, you can astound your friends and family with these fun Thanksgiving facts from CNN and these from Good Houskeeping magazine.