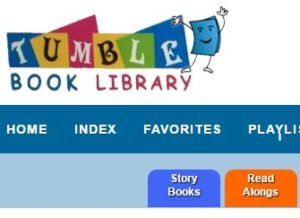 Tumblebooks is an online reading opportunity for kids that includes animated talking picture books, chapter books, videos, non-fiction titles, playlists, books in languages other than English such as French and Spanish, graphic novels and math stories. Our TumblePremium collection has nearly 1000 titles with content most appropriate for those in grades K-6!
Your Attleboro Public Library card gives you access to this resource for FREE! Simply hover over on the eLibrary tab above for access to Tumblebooks.
There are 8 different sections to Tumblebooks. 
Story Books are animated, talking picture books. Readers have the option to automatically or manually turn the pages.
Chapter Books/Read-Alongs are early chapter books for older elementary readers. While there are no animations, the ebooks are narrated. They also include chapter menus so that you can jump chapters, bookmarks, and a notes feature.
Videos are from the world renowned National Geographic.  Click on "Watch Online" to watch the 2-5 minute clips on various topics.
Featured is where teachers, librarians, parents, kids, and TumbleBooks staff can recommended a book!
Puzzles & Games accompany each book and reinforce concepts from the books, allowing for a fun and educational learning experience.
Language Learning is an easy way to access French and Spanish titles.
Non-Fiction contains a growing collection of non-fiction titles in subjects like health, science, astronomy, biology, and nature.
Playlist allows you to access our pre-loaded playlist. The eBooks play back to back just like a music playlist. In addition, you can create your own playlist
For those who are worried about blurring the lines between "screen time" and "reading time," Tumblebooks has some solutions. Users can turn off the narration, allowing the user to read the book in their own voice, pause, ask questions and fully engage in conversation that makes the read-aloud experience so rich for young children. Just as with traditional books, children will learn to read them independently.
Patrons can also use the manual, instead of auto, setting. This allows you or your child to move through the book at a comfortable pace and to turn back a page or two whenever the reader wants to.
Check out Tumblebooks with your child and see what you can discover!