What better cause for the Library to highlight than Family Literacy Month? Each November, we focus our attention on how easy it is for all of us to make a reading a part of daily family life. Reading is an essential skill for empowering individuals to become engaged with the world.
We can ALL help make reading fun! Attleboro Children's Librarian, Krystal Brown leads story times for infants to preschoolers in the library. Families take part in games, songs, stories and more in the 45 minute sessions held each week throughout the year. Mrs. Brown says, "Hosting story times and other programs has always been one of the most enjoyable parts of my job.  Not only are they fun, they give families a chance to interact and spend quality time together.  Library activities are a way to build a foundation for a life-long love of reading.  When parents and caregivers take the time to bring children to the library and participate in programs, they are modeling the importance of books, reading and literacy."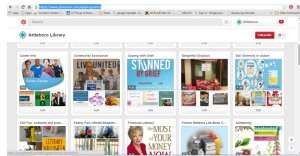 In addition to programs, the library also collects a variety of resources designed to inspire families to spend time together, and perhaps learn a little something, too. Most activities can be enjoyed with little to no materials and can be shared in the few minutes you have while you're in car or waiting for an appointment or when you have a whole afternoon to fill. Browse through our Pinterest boards to find great ideas on a variety of topics.
Library staff also rely on community partners to promote family literacy. Project Connect Family Center visits the library once a week for Lunch Bunch, a drop-in program designed for 3-5 year olds with a caregiver. Mrs. Brown and a Parent Educator from PCFC model literacy based activities and share resources and advice with families.
If you'd like to add more reading fun to your family's life, stop by the library and talk to a member of our staff or sign up for our email list.