September 15 – October 15 is National Hispanic Heritage Month, a time to celebrate the customs and contributions of the people of Spain, Mexico, the Caribbean and Central and South America. Visit the library to view titles showcasing the works of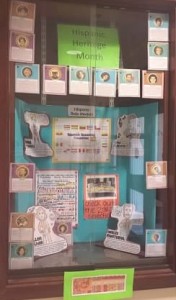 Hispanic writers, poets, actors, athletes, musicians, politicians and more. Be sure to stop and look at the first floor display case highlighting Hispanic heroes!
The Attleboro Public Library collects magazines, music, books, movies and audiobooks in Spanish. These collections are spread throughout the building, and include everything from picture books in the Augat Childrens Room to computer manuals, cookbooks, and Latino poetry and short stories on the third floor. Spanish language music and movies are also available. Our collection continues to grow as more cardholders request bilingual material. If you have a favorite book, author or artist that should be included in our Spanish Language collection, please contact Assistant Director, Amy Rhilinger.
Occasionally the Library is able to present bilingual programming to the community. If you speak a language other than English, we would love to work with you.