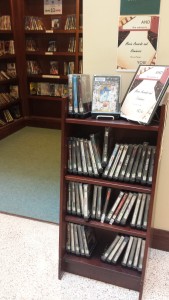 Library visitors can often be heard to exclaim, "I didn't know that you could borrow MOVIES here!" And it's true. The Attleboro Public Library offers hundreds of feature films, TV series, travelogues and documentaries for viewers of all ages. Our movie displays change frequently, highlighting a variety of genres and award winning titles.
Movies are available on DVD and Bluray and in several languages, mostly English and also in Spanish. Movies can be checked out for two weeks. Our staff is available to help you find just what you are looking for, and can place an item on hold for you if it is not on the shelf. Are you looking for a title that we don't own? Fill out a comment card, available at all of our public service desks, and offer your suggestions.
Don't forget that titles are located throughout the building. Feature films, TV series and Spanish titles are easy to find in the first floor lobby. G-rated titles are in the Children's Room along the front wall, and non-fiction and travel titles are on the third floor.
Happy viewing!