Attleboro's 1 ABC is pleased to once again bring the National Endowment for the Arts/The Big Read program to Attleboro. This year's selection of When the Emperor was Divine by Julie Otsuka provides some unique programming opportunities for our community. This subtle story of life in the detainment camps during World War II, offers our community an historical and cultural opportunity to review what being American is about. Two themes which lightly appear in the book, but provide a dramatic look at the issue of "home", will be featured at our kickoff.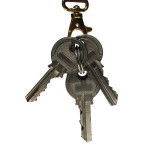 A house key; our key to home, may be the key to our existence, will be used as a symbol throughout our programming. 'Key For Hope' boxes will be stationed at "key" partner locations throughout Attleboro to collect old unusable keys. 'Key For Hope' is an organization that collects keys and turns the metal into cash for local non-profits. Reminiscent of the World War II scrap drives in the 1940s, the 'Key For Hope' foundation was established with the idea that if everyone simply donated their old keys, the scrap metal value could be immediately converted into humanitarian assistance and could have a significant impact on hunger, poverty and homelessness in local communities. Proceeds will go towards children's programs at the Attleboro Public Library and Attleboro Arts Museum with the intent of opening up opportunities for all children in our community.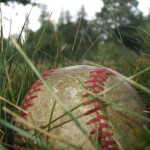 What makes us feel more American than our country's National pastime- Baseball! Incredibly, baseball played a very important role in the lives of Japanese Americans detained in internment camps. Baseball was their lifeline and 'key' to keeping up their morale and maintaining a connection to their lives as 'Americans'.
Historically, baseball was the game for ALL diverse immigrants coming to America. Despite racial, cultural and generational differences, baseball holds American society together.
Please come join us at 'Attleboro's 100th Anniversary Celebration'. This is when we start our public kickoff of this year's Big Read. We ask you to partake in community whiffle baseball games. Whether you have played the game before or not, join in the fun and try your luck with an inning or two. Copies of "When the Emperor was Divine" along with Big Read bookmarks will be handed out.
This Big Read event is sponsored by The Literacy Center, Attleboro Public Library, Attleboro Recreation Department and the Attleboro YMCA. While you are at it, bring your old keys to add to our collection box and help us bring 'Key For Hope' to Attleboro.