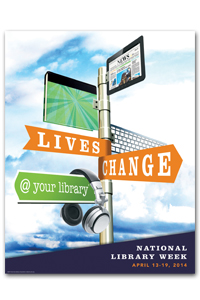 The Attleboro Public Library will be celebrating National Library Week from April 13th-19th.  This is a week that is dedicated to recognizing the work of all types of libraries, librarians, and library workers nationwide.  We urge you to stop by and say hello in person or to connect with us online and say thanks for being here.
The Attleboro Public Library is proud to be a department of the City and a resource for our community.  Over the last few years we have actively embarked on a mission of creatively blending books, e-content, programs, and opportunities to bring a community-based Library experience to Attleboro.  We are moving forward in our efforts to step up our role as a community resource creating multi-based information gathering opportunities for our existing and new patrons.  It is our goal to meet the needs of our changing world and community by leveraging the resources we have available to the best of our ability and utilizing these resources to their utmost capacity.
We are the stewards of a beautiful building (we like to think it is the most beautiful public building in the City), providers of a multitude of services, purveyors of multi-format information resources, and the location for a myriad number of programs all delivered in a friendly, professional manner by our Library staff, volunteers, community supporters and area experts.    A typical day of Library service may have children reading to their Tail Waggin' Tutors, teens creatively writing short stories, a lively biography, fiction, or World War II themed Book Discussion, legal advice from members of the Attleboro Area Bar Association, gardening tips thanks to the Attleboro Garden Club, advice on managing money, new cultural experiences to savor including reduced rate passes for area attractions, storytelling and sharing, as well as opportunities allowing you to download audio, eBooks, and accessing online databases on your personal devices.   Soon we will be offering new top notch computer services, thanks to funding through the City Capital Improvements Plan.
During National Library Week we will offer Lego Club on Monday, Teen Drop-In Tuesday, Movie of the Month and Parent's Book Group on Wednesday, Thank the Library Thursday, Teen Book Group on Friday, Attleboro Girl Club and the Write On!  Teen Writing Workshop on Saturday.  Other meetings include: Attleboro Historical Commission, MS Support Group for Women, GATRA Consumer Advisory Committee, and the Attleboro Redevelopment Authority.
Your Library will enlighten, entertain, and educate you in more ways than you would expect.  Stop in and see what we have going on for you.   If you get a chance, thank a Librarian for the work they do and allow us to thank you for supporting your Library.  Let your City Councilors know how much you love your Library.  Here in Attleboro we are…Books and so Much More @ your Library!
Joan Pilkington-Smyth, Director