April Break Week has begun, and there is so much to explore, learn and create at the APL for kids and teens! Email attleborokids@sailsinc.org with any questions and to sign up!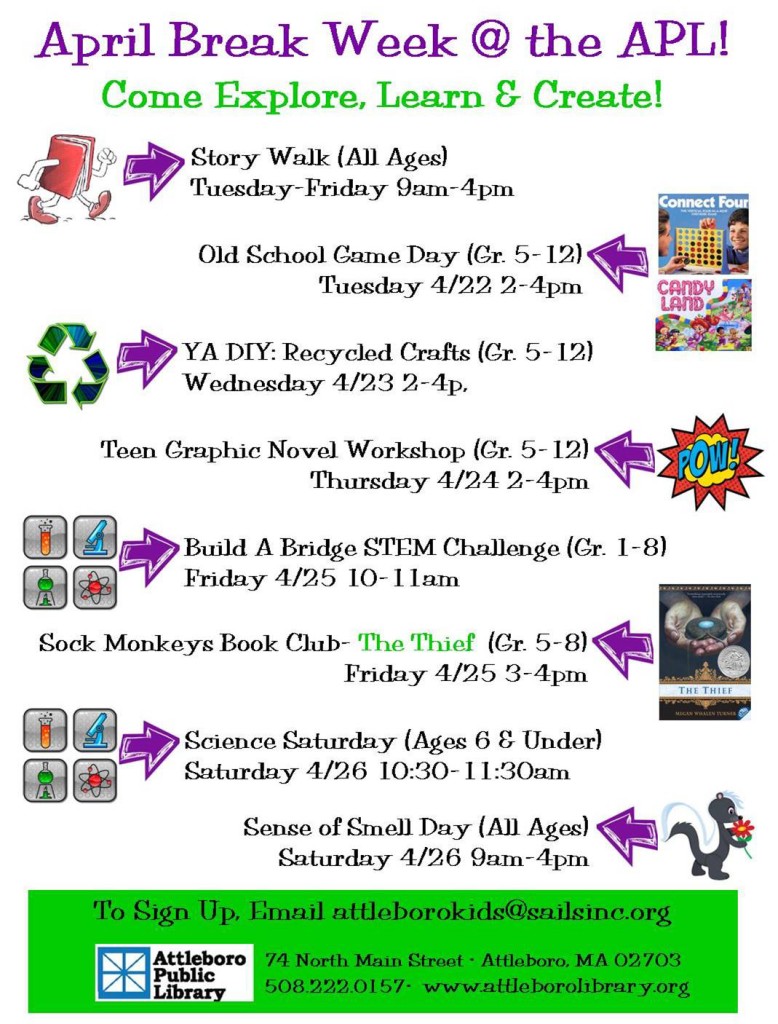 For Kids of All Ages:
Story Walk– Tuesday, April 22 thru Friday, April 25, 9am-4pm: What is a story walk?  It combines some of Mrs. Brown's favorite things–stories, families and     taking a walk!  Mrs. Brown and staff from the Project Connect Family Center worked together to present a story walk in the Attleboro community.  Stop by the Balfour Riverwalk Park during April vacation week to take a stroll and read a story.  Weather permitting, pages of a story will be posted around the walking path in the Riverwalk and as families walk the path, they can stop at each post to read some of the story.  This time around, the story will be "I Love Our Earth" in both English and Spanish.
Sense of Smell Day– Saturday, April 26, 9am-4pm: Come explore the role that our noses play in daily life with fun (and fragrant) activities!
For Kids under 6:
Science Saturday– Saturday, April 26, 10:30-11:30am: We will be exploring STEM (Science, Technology, Engineering and Math) concepts and doing hands-on activities for some of our youngest patrons and their adults.
 For Kids in Grades 1-8:
Build A Bridge Engineering Challenge– Friday, April 25, 10-11am: Older and younger kids will work in teams to build a bridge strong enough to hold one, two, or maybe even three potatoes!
 For Teens in Grades 5-12:
Old School Game Day– Tuesday, April 22, 2-4pm: Come re-live yourchildhood – play Monopoly, Life, Connect Four and other classic games, complete with juice boxes and goldfish crackers, and intense competition.
YA DIY: Recycled Crafts– Wednesday, April 23, 2-4pm: Use old cds, cardboard and other recyclables to make awesome new projects! Bring any item that you'd like to re-purpose!
Graphic Novel Workshop– Thursday, April 24, 2-4pm: Come meet local graphic novel artist Nick Danho, learn the tricks of the trade, and create your own graphic novel and comic-style art!
Sock Monkeys Middle School Book Club– Friday, April 25, 3-4pm: We'll discussThe Thief by Megan Whalen Turner!