On Friday, June 14, 2019, at the Friends of Attleboro Public Library's End of Year and Volunteer Recognition Celebration in the Marble Lobby, retiring Library Trustee and Treasurer, John Carty was honored.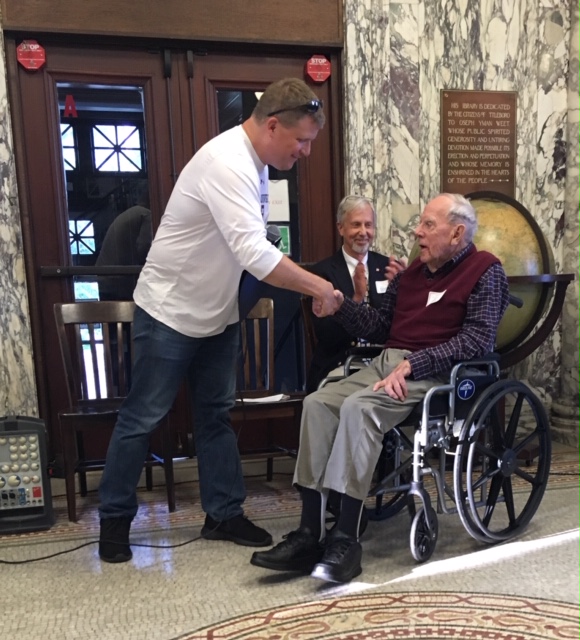 Mayor Paul Heroux presented Mr. Carty with a certificate from the Mayor's office and the Attleboro Municipal Council in recognition of his 26 years of service as a volunteer Library Trustee.
Library Board of Trustees Charles Oliver began his speech with a quote from Joni Mitchell's Big Yellow Taxi lyrics, "Don't it always seem to go that you don't know what you've got 'til it's gone!" in expressing how much John's efforts as Treasurer will be missed.
Oliver continued, "John has served the Board as Treasurer since 1993. Nobody really noticed what he did. We knew that the bills got paid, and that we had money in the Bank. Nobody thought about reconciling the check book. Nobody thought about the bookkeeping – the cash journals, income statements, spreadsheets and other financial reports which John prepared continually, by hand, without the aid of a computer or online banking. Nobody saw the preparation for the annual audit and interaction with the accounting firm. Like pure mathematics, accounting has no approximate numbers. Something either reconciles or it doesn't. If you are off by a penny, it could be a simple one cent posting error or it could be a combination of things, multiple errors. Sometimes, it can take you a couple of hours to sort out why something doesn't reconcile. John knew. Accounting is his expertise. John is a walking General Ledger, and his mind is a Chart of Accounts."
Oliver furthered expressed that John was "an extremely valuable repository of 'institutional knowledge', the kind of person that any Board would treasure. It is so valuable to have (had) his recall of matters and decisions and incidents and votes from the past, and we will sorely miss that."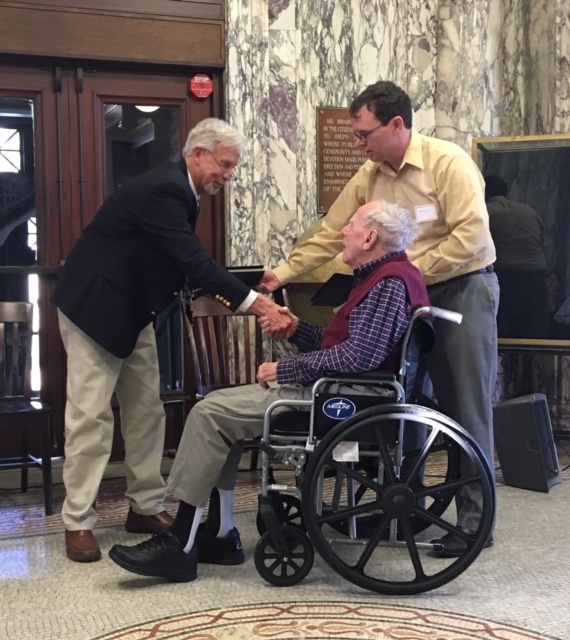 John Carty was presented with a Certificate of Service from the Massachusetts Library Board of Commissioners and a framed Certificate of Excellence from the Attleboro Library Board of Trustees acknowledging his 26 years of "dedicated service to the Attleboro Public Library," and John's "leadership role in the community, integrity and professional manner."
Prior to joining the Library Board of Trustees, John Carty served on the School Committee for 14 years.
In addition to John and his wife Anne, the ceremony was attended by the Carty children, John Carty, Jr. and his son Luke of Needham, MA, daughter Mary Jane Brown and her husband Brian of South Hamilton, MA, and daughter, Nancy Chermak of Biddeford, ME.
Following the ceremonies, The Unlikely Strummers Ukulele band performed for the delighted audience.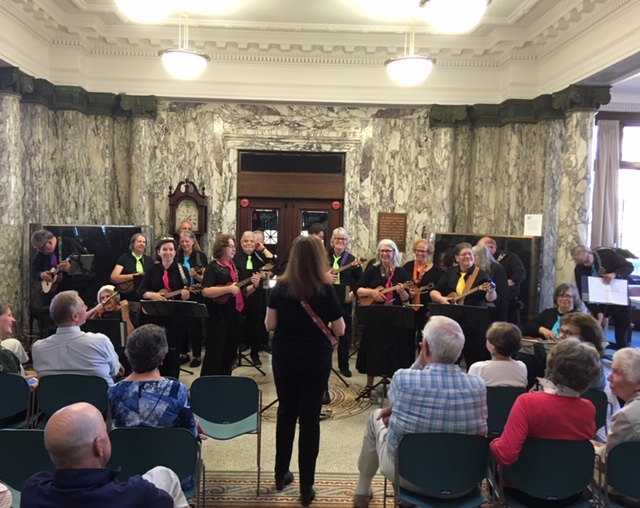 The Attleboro Library Board of Trustees is comprised of President Charles Oliver, Vice President, Cathleen DeSimone, Treasurer Mahesh Patel, Secretary, Tricia Svendsen, Linda Binns, Victor Bonneville, Diane Mangiaratti, Tobey Reed and Eileen Struminski.
The Friends of Attleboro Public Library is a separate 501c3 organization chartered to support special library programs and events including purchasing annual Museum Pass subscriptions, providing program support for Children's Summer Reading and the annual NEA Big Read: Attleboro Community Read each fall.