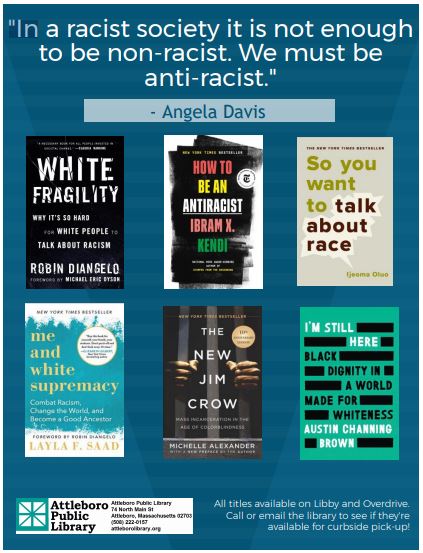 The library doesn't have all the answers but we do have important information and resources to help everyone understand the prejudices and inequities in our society. We've looked at our collections and scoured the internet to share some of these resources with you. Don't see what you're looking for? Please call (508-222-0157) or email us at apl_ref@sailsinc.org for a more specific list.
General resources
Anti-racism Resources is an all-encompassing document being shared online. It includes books to read, podcasts to listen to, films to watch, and more. It links to resources for white parents to raising anti-racist children and includes films and TV show, and social media accounts, as well as books, videos and articles for everyone looking to learn more about racism in the United States and the world.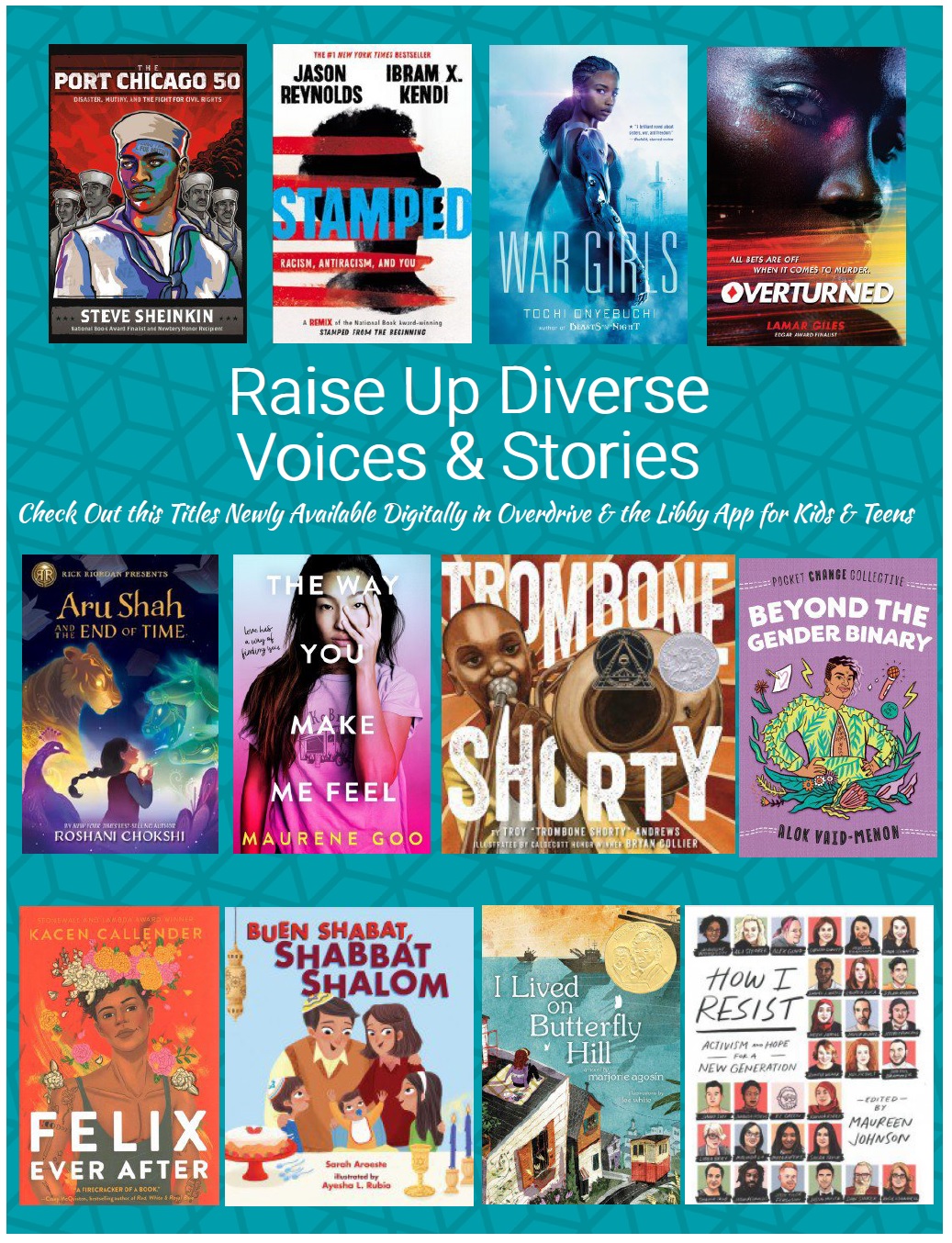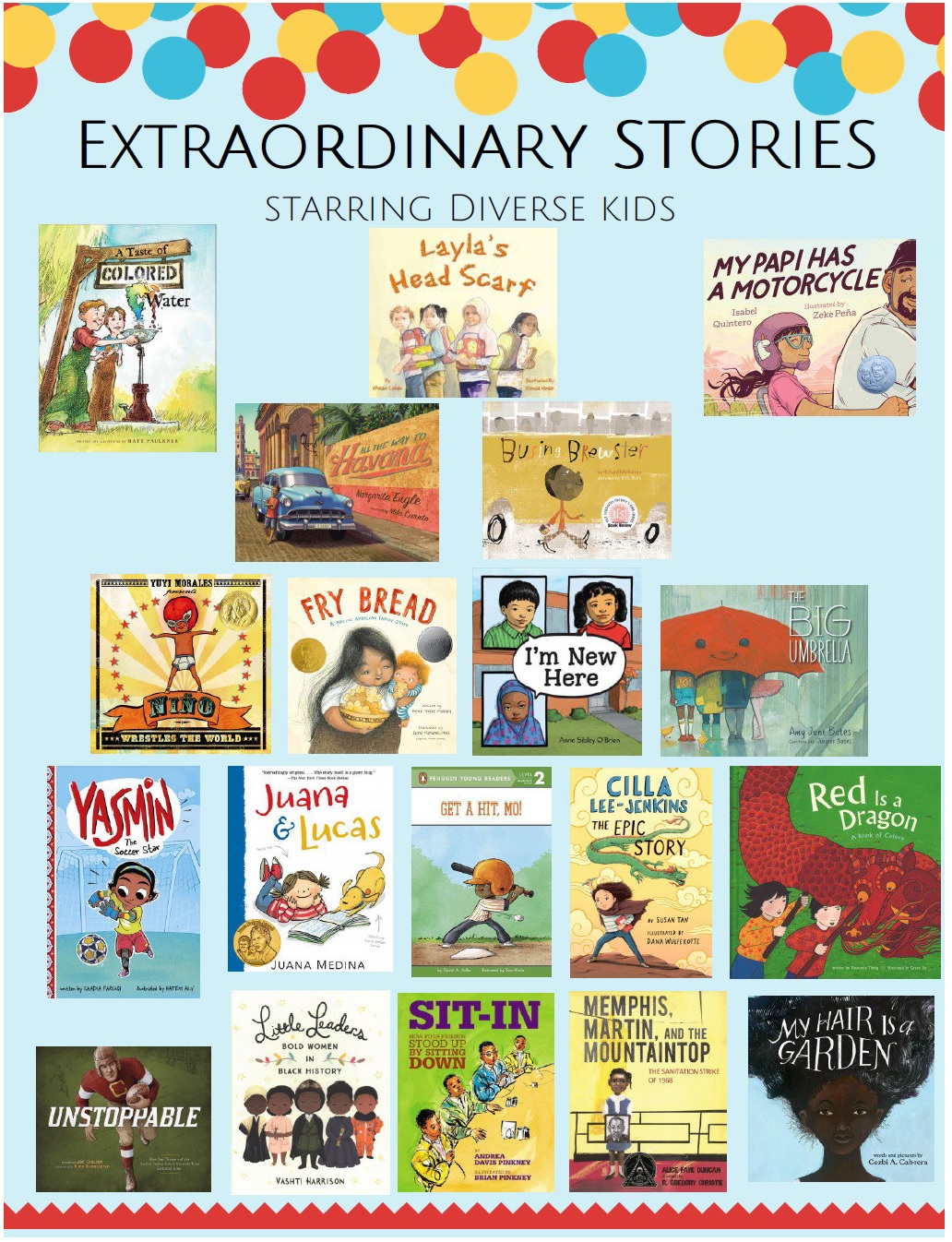 Resources for Children
Sesame Street/CNN Town Hall on Racism can be watched in its entirety here.
The Brown Bookshelf, organizers of the KidLit Rally 4 Black Lives, a virtual rally of children's book authors, have many lists of diverse books for children of all ages as well as antiracism resources.
Brightly offers this article to explain why it is important to talk to kids about racism and hate, and includes a few titles that can help. Brighty also offers Black Boy Joy , a lengthy list of picture books with young, Black, male protagonists.
These resources from the Children's Alliance also help with conversations on racism.
The Black Lives Matter Instructional Library includes video read alouds in English and Spanish.
MulticulturalChildrensBookDay.com – The MCBD team hopes to spread the word and raise awareness about the importance of diversity in children's literature. Young readers need to see themselves within the pages of a book and experience other cultures, languages, traditions and religions within the pages of a book.
SocialJusticeBooks.org – Affiliated with Teaching for Change, Social Justice Books is a non-profit organization whose mission is to provide teachers and parents with the tools to create schools where students learn to read, write and change the world.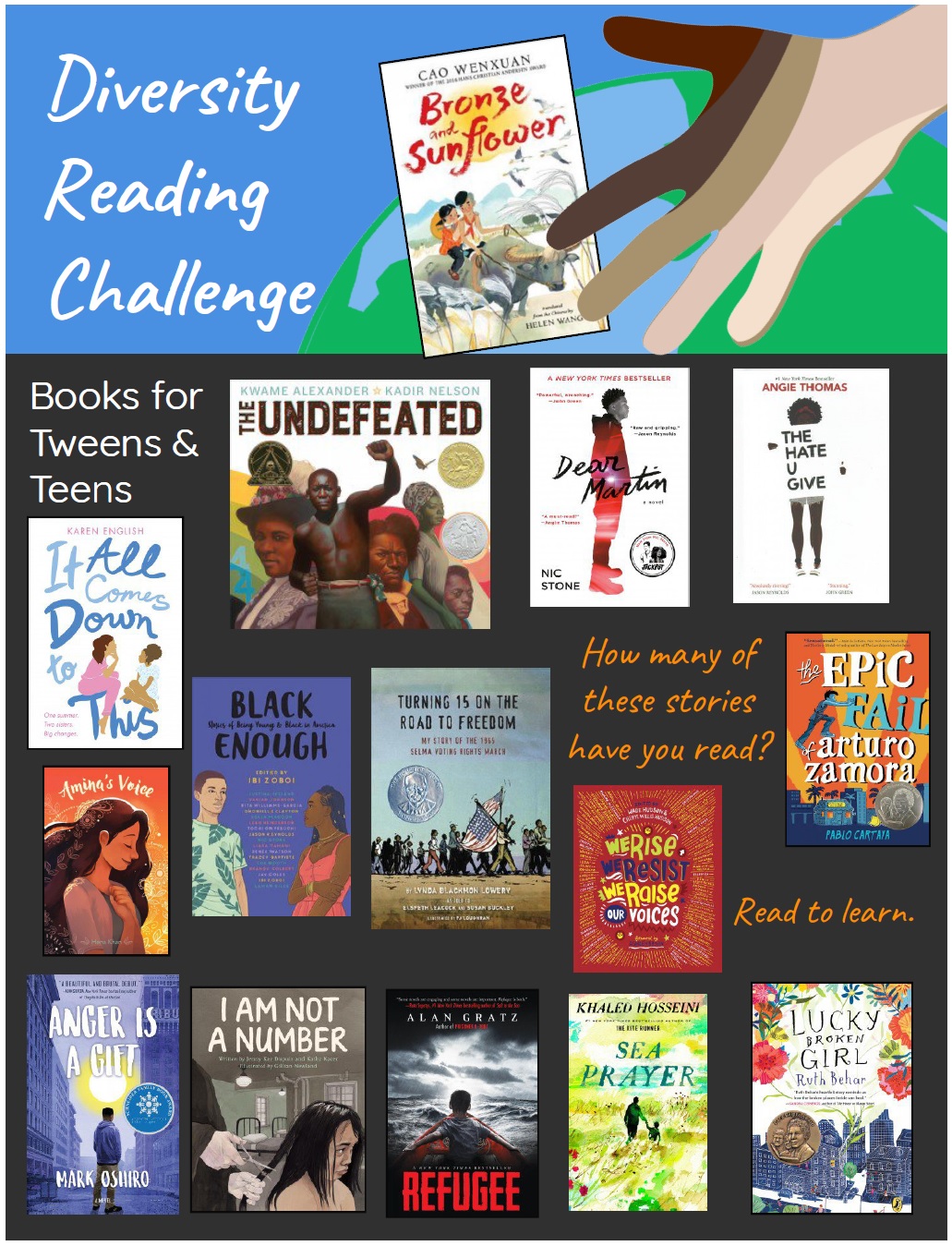 Resources for Teens
Racial Healing Resources from the American Library Association's Great Stories Club. The APL and Attleboro Community Academy recently completed a grant funded book discussion program using this curriculum. This page also offer a list of readings for background on structural racism.
Popular book, Stamped: Racism, Antiracism, and You, has an online educator's guide, available for FREE. The guide was created for teachers of students 12 years old and up.
Resources for Adults
Anti-Racist Starter Pack – 40 TV Series, Documentaries, Movies, TED Talks, and Books from Parade magazine.
Oprah's "Where Do We Go From Here?" Town Hall (available until 7/31/2020)
WBUR presents 5 podcasts to listen to when you want to better understand race in America. Seeing White is another podcast recommended by Attleboro community members. It is produced and hosted by John Biewen, and comes from Scene on Radio at the Center for Documentary Studies (CDS) at Duke University.
Reading suggestions and lesson plans from Teach and Transform, an organization working towards narrowing the opportunity debt through anti-bias, anti-racist education.
Anti-Defamation League's Books Matter book list is just one of the many anti-hate resources on their page. Find tips for family conversations, curriculum for anti-bias training,
Favorite books from Black Icons – Black cultural figures profiled in The New York Times Style pages share their favorite books. (recommended by the New England Library Association)
Nashville Public Library's Civil Rights Room & Collection – The Civil Rights Room is a space for education and exploration of the Civil Rights Collection. The materials exhibited here capture the drama of a time when thousands of African-American citizens in Nashville sparked a nonviolent challenge to racial segregation in the city and across the South.
Organizations
ACLU – The American Civil Liberties Union dares to create a more perfect union — beyond one person, party, or side. Their mission is to realize the promise of the United States Constitution for all and expand the reach of its guarantees.
Equal Justice Initiative – The Equal Justice Initiative is committed to ending mass incarceration and excessive punishment in the United States, to challenging racial and economic injustice, and to protecting basic human rights for the most vulnerable people in American society. Founded in 1989 by Bryan Stevenson, a public interest lawyer and bestselling author of Just Mercy, EJI provides legal representation to people who have been illegally convicted, unfairly sentenced, or abused in state jails and prisons.
Know Your Rights Camp – Our mission is to advance the liberation and well-being of Black and Brown communities through education, self-empowerment, mass-mobilization and the creation of new systems that elevate the next generation of change leaders.
NAACP – The mission of the National Association for the Advancement of Colored People (NAACP) is to secure the political, educational, social, and economic equality of rights in order to eliminate race-based discrimination and ensure the health and well-being of all persons.
National Bail Fund Network – The National Bail Fund Network is made up of over sixty community bail and bond funds across the country. We regularly update this listing of community bail funds that are freeing people by paying bail/bond and are also fighting to abolish the money bail system and pretrial detention.
Black Lives Matter.com Black Lives Matter Foundation, Inc is a global organization in the US, UK, and Canada, whose mission is to eradicate white supremacy and build local power to intervene in violence inflicted on Black communities by the state and vigilantes. By combating and countering acts of violence, creating space for Black imagination and innovation, and centering Black joy, we are winning immediate improvements in our lives. (Boston Globe)
Infoblm.carrd.com – Pages of resources in a variety of languages (Boston Globe)
Codeswitch – We're a multi-racial, multi-generational team of NPR journalists who cover overlapping themes of race, ethnicity and culture, how they play out in our lives and communities, and how all of this is shifting. Our work appears on-air and online, across NPR's shows, and on the weekly Code Switch podcast.
28 Day Ally Reading Plan is a day-by-day guide to some of the most highly recommended media for learning about institutional racism, white supremacy, policing, protesting, and more. from The readings come from the curated resources of Tatum Dorrell, Matt Herndon, Jourdan Dorrell, Danah Kowdan, Sarah Sophie Flicker, Alyssa Klein, the AntiRacism Project, The AntiRacist Resource Guide, Rachel Ricketts, and many others.