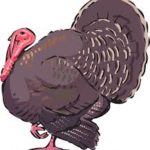 At the end of November, many of us take time to count the numerous things we have to be grateful for. The staff, board and volunteers at the APL are so very grateful for YOU, the patrons that make our library hum with activity each and every day. We love to be here because you do. Thank you for all of the questions, the smiles, the jokes, (except for that "Poultry in motion" one. That one was bad!) and the stories. We look forward to another year of serving you.
The library will close on Wednesday, November 27 at 2:30pm and will reopen on Friday, November 29 at 8:30am.
To say thank you, we're doing what we do best, compiling resources that hopefully make your life a little easier, or perhaps a little more interesting!
Roasting a turkey? Butterball has tips for you! http://www.butterball.com/how-tos/roast-a-turkey
Want to learn pie baking? Universal Class, our FREE online learning venue, has just the thing! https://search.universalclass.com/fastcgi/slsearch.htm?SearchString=pie&SearchButton=GO
Travel plans? Travel + Leisure magazine has you covered!
Staying home? Get all the info on the 2019 Macy's Thanksgiving Day Parade here.
Looking for ways to engage the family without talking religion or politics? StoryCorp has you covered!
Want to encourage the children in your life to be thankful? Start with this list from Brightly.
However you're spending the day, you can astound your friends and family with these fun Thanksgiving facts from CNN and these from Real Simple magazine.