Come celebrate National Library Week (April 10-16) with the Attleboro Public Library!
This year's theme is Libraries Transform and APL will be showcasing some of our ongoing events, which help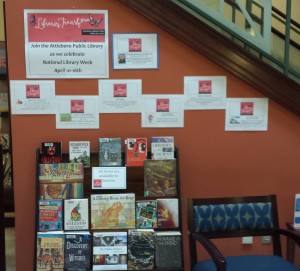 transform and enrich the lives of many in our community. As a special event, The Attleboro Public Library Board of Trustees is hosting Ted Reinstein, author and journalist from Chanel 5's Chronicle, to discuss his latest book, Wicked Pissed: New England's Most Famous Feuds.
Additionally, there is a collection of library related nonfiction books and fiction and science fiction books which are set in libraries for you to borrow and enjoy!
Stop by each day and see what YOUR Library has to offer:
Monday – Lego Club in the Children's Room
Tuesday – DEAR (Drop Everything and Read) Day – celebrated on Beverly Cleary's birthday – who is turning 100th this year! And, Story times for kids from newborn to 36 months and their caregivers
Wednesday – Get Inspired Wednesday – stop by the Circulation Desk and pick up an inspirational quote!
Thursday – Ted Reinstein from Channel 5's Chronicle discusses his new book on some of New England's most famous feuds
Friday – Story times for 3-5 year olds and their caregivers
Saturday – Tail Waggin' Tutors for kids to age 14 & Science Saturday for preschool and Kindergarten patrons and their caregivers
Please visit http://attleborolibrary.org/register/ for more details and registration information. Please see our Pinterest page for related links and books!