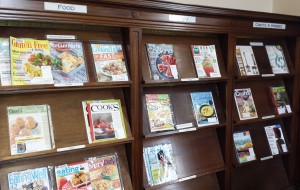 Have a few minutes to sit in the air conditioning and put your feet up? Visit the second floor of the library and flip through an issue or two of your favorite magazine. You can browse articles on current events, pop stars, recipes or home improvement plans!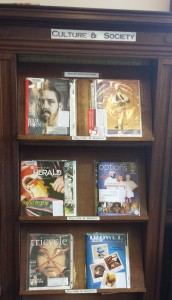 When you visit the Attleboro Library's second floor reading room, you'll find dozens of magazine titles ready and waiting for you to discover. Magazines are displayed by genre, and include cooking, crafts, popular culture, history, travel and business. New titles in foreign languages have been added to the collection, including Futbol Total, Maria, Selecções, Vanidades and TeleCulinária.
While you're on the second floor, browse the newspapers, including the Sun Chronicle, Boston Globe, Providence Journal, Boston Herald, Portuguese Times, Wall Street Journal and others. We're happy to make a copy of the crossword puzzle for you to take home! Weekly coupons and store flyers are also available for patrons to use.
More magazines can be found downstairs in the Augat Children's Room. Above the graphic novel collection, younger readers can find titles like American Girl, Boy's Life, Sports Illustrated for Kids and National Geographic for Kids. At the far end of the room, next to the most comfortable couch, there are magazines focused on parenting issues. Care takers will find the latest issues of FamilyFun, Working Mother, Home Education Magazine and more!
Current and past issues of all of Attleboro's magazine holdings can be checked out and brought home for one week. Specific issues of magazines can be reserved online by visiting the SAILS network catalog. As always, library staff welcome your questions, so please ask us next time you visit!