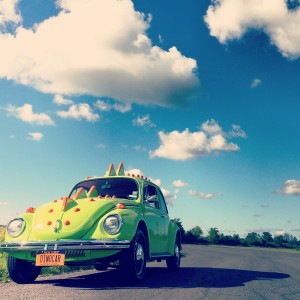 Are you driving to your vacation destination this year? How about listening to an audiobook to amuse yourself (and your family) and make the trip even more bearable memorable? There have been some hilarious audiobooks published in the past several years.
First up is Comedian Jim Gaffigan who relates his tale of family life and parenthood in Dad is Fat. Junk food lovers will also enjoy his Food: A Love Story.
Funny lady Tina Fey is at her best in BossyPants, a humorous memoir.
In Paddle Your Own Canoe, actor and funny man Nick Offerman offers his unique perspective on life, as well as describing his courtship of his wife, actress Megan Mullaly.  Director John Waters, in his own irreverent style, describes his experience of hitchhiking cross country in Carsick: John Waters Hitchhikes Across America. Enjoy some political satire listening to Stephen Colbert's America Again: Re-becoming the Greatness We Never Weren't.
The late Joan Rivers reads her caustic, autobiographical titles I Hate Everyone Starting With Me and Diary of a Mad Diva.
Baby Boomers will chuckle at the author's attempts to live like Martha Stewart in The Tao of Martha: My Year of LIVING, or Why I'm Never Getting Glitter Off the Dog by Jen Lancaster, or commiserate with Nora Ephron's I Feel Bad About My Neck and Other Thoughts On Being a Woman.
So, if you are feeling desperate by mile 500 or so, try some audio humor to lighten the journey! Many more titles are available in CD or eAudio format in the SAILS catalog.