Calling all soon to be 5th thru 8th graders! We have a book club just for you! The Book Hungry Sock Monkeys is the Attleboro Public Library's Middle School Book Club.  The Sock Monkeys meet once a month on a Wednesday night to discuss our latest book selection, as well as books we love in general.  The books are chosen by the participants, so we make sure we read what you want to read!
Book clubs are great for youth who love to read, and for reluctant readers as well.  They allow youth to socialize and may inspire them to try new genres or series that they never thought they would enjoy.  Getting middle schoolers to read can sometimes be tough, and it is all about getting the right book in their hands, who better to suggest that book than other youth their age!  Let's create life long readers!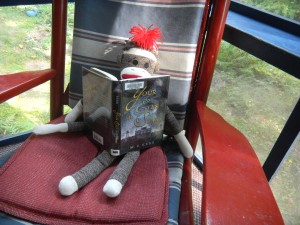 This month's Sock Monkeys Book Club meeting will be held on Wednesday June 17, 2015 from 6pm-7pm.  We will be discussing Sky Raiders by, Brandon Mull.  Copies of the book are available at the children's room desk at the library.  Hope to see you there! For information on upcoming Sock Monkey's meetings and other programming for tweens and teens please click here.